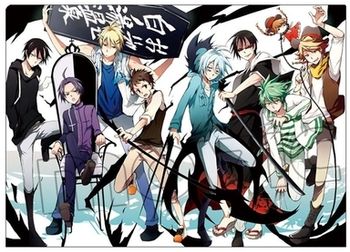 Servamp is an Urban Fantasy manga created by Strike Tanaka and revolves around Shirota Mahiru, an Ordinary High-School Student who loves simple things and hates complicated ones. One day he rescues an injured cat on his way home from school, takes him to his apartment and names him Kuro. Turns out Kuro is no simple cat but the Servamp of Sloth, the first of the seven original vampires or Servamps representing the Seven Deadly Sins, and incredibly lazy. And Mahiru finds himself caught up in a vampire war when a mysterious eighth Servamp, Tsubaki, decides to attack the seven Servamps...
An anime adaptation made by Brains Base aired as part of the Summer 2016 Anime season.
Oh, and by the way, despite looking like a Shōnen manga, this is actually a Shōjo.
This work contains examples of: