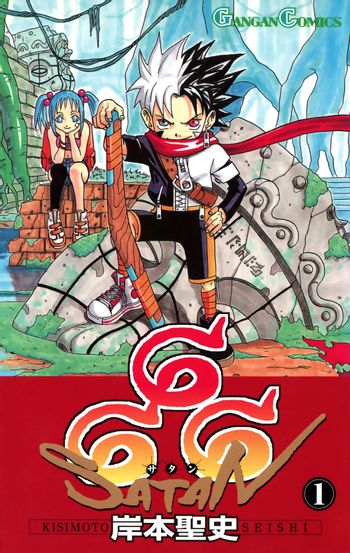 Written by Seishi Kishimoto, younger twin brother of Masashi Kishimoto — yes, that Masashi Kishimoto — O-Parts Hunter is about Jio Freed, who, after joining up with a girl named Ruby Crescant, starts searching for artifacts of an ancient civilization, called "O-parts", so he can take over the world.
Oh, and Jio has Satan sealed inside of him.
If nothing else, that would explain why the original Japanese title is 666 Satan. The series was renamed for the North American release for rather obvious reasons, though its translation is otherwise faithful to the original.
The series gained a bit of controversy in Japan as many readers accused it of being a blatant ripoff of Naruto. Being the twin brother of the author of that series didn't help matters. It got so bad that Masashi had to step in and pretty much tell everyone that wasn't the case and that both brothers just had the same influence (i.e. Dragon Ball) for their works. Indeed, save for the heroes having demons living inside them and a character that can use eye power, there's very little similarity between this series and Naruto, especially when you read further in.
This was Seishi Kishimoto's debut manga, which ran in Monthly Shonen Gangan from 2001 to 2007. He followed up this series with Blazer Drive.
---
Tropes:
---