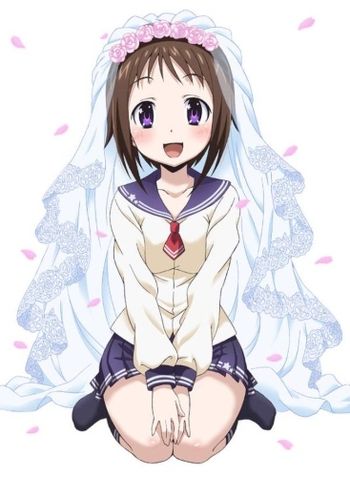 You just lost a presidential race at your school, you're feeling gloomy and you are appointed instead as vice-president serving under the beautiful Wakana Ui... Who made it rain condoms to win the election.
Well, for Izumi Hayato, it couldn't get any worse... except for the fact the that very same president happens to also be his self-proclaimed fiancé that their parents had "arranged" for him to marry.
The completely oblivious kaichou doesn't know much about sex, marriage, and relationships, yet she is willing to give up her innocence to Izumi! Will he hold out on deflowering the innocent student council president? Or will he fall under the deadly sin of temptation Wakana keeps on giving him?
My Wife is the Student Council President (Okusama ga Seito Kaichō) is an erotic comedy manga by Yumi Nakata. It was serialized in Comic Rex magazine from 2012 to 2018, and compiled into 13 volumes. It later gained an anime adaptation composed of 12 ten-minute shorts, as part of the Summer 2015 Anime season, with a second cour premiering during the Fall 2016 Anime season. Both are available for worldwide streaming on Crunchyroll.
Not to be confused with the similarly named My Wife is a High School Girl, or with My Girlfriend Is the President.
---
My Wife is the Student Council President gives examples of the following tropes:
---