"My name is the Blues. And tonight, and every night, I go forth to meet my friend."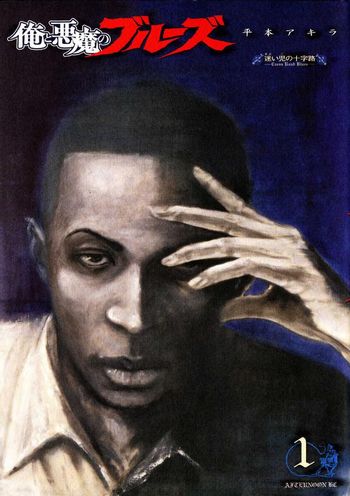 Me and the Devil Blues (Ore to Akuma no Buruuzu, if you really need to know) is a horror manga by Akira Hiramoto based on the life of blues musician Robert Johnson and the titular song, "Me and the Devil Blues". RJ, an aspiring musician, makes a Deal with the Devil that makes him the greatest blues musician around at the cost of... well, see for yourself. RJ later finds himself wandering the countryside with a new-found companion, Ike, and later Clyde Barrow. Unfortunately, bad luck seems to follow him everywhere, and he finds himself with more than a few enemies as well. A lushly illustrated series. The series was put into a hiatus in 2006, and years later publisher Kodansha and Afternoon magazine unfortunately declared the series as finished, leaving it where the author left.
In 2014, what many thought was impossible happened. The series had its first new chapter in 8 years since the hiatus, the series is officially back, now on Young Magazine the 3rd, still published by Kodansha.
---
Tropes:
---