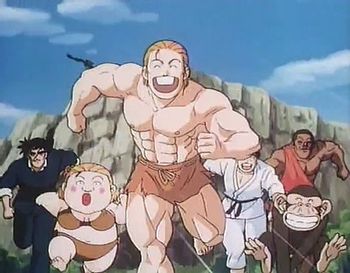 "I won't forgive those who harm the peace of the jungle!"
—Tar-Chan
Jungle King Tar-Chan (Jungle no Ouja Taa-chan) is a comedy/action manga created by Masuya Tokuhiro. It began serialization in Weekly Shonen Jump in 1988 and was primarily a Gag Series until 1990, when it then changed its name to New Jungle King Tar-Chan, switching genres to a more serious fighting theme which continued to run until the final volume in 1995.
An anime was produced by Group TAC and broadcasted on TV Tokyo from 1994 to 1995 for 50 episodes. The anime adapted four arcs from New Jungle King Tar-chan; the 32 Western Clans arc, the Corgan family arc, the Vampire arc and the Clone arc, while various short stories from the original Jungle King Tar-chan were adapted for stand-alone episodes (The episodes before Pedro's introduction and the gap between the Western Clans and Corgan arc).
Tar-chan is the King of the Jungle, living in the African Jungle with his wife Jane. His main job is to protect the various animals from hunters and poachers. While living his carefree life, a karate champion named Pedro shows up, asking for an apprenticeship. From then on his life starts getting more exciting as he enters a Chinese martial arts tournament to prevent assassins from gaining power, meets his family for the very first time in estranged circumstances, saving a kingdom of vampires from internal treachery as well as fighting against his own clone.
It provides examples of the following tropes:
---