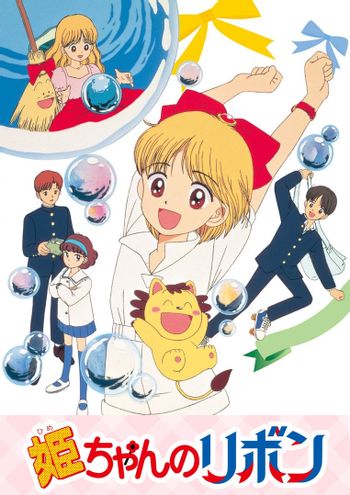 Himeko "Hime-chan" Nonohara is a magical Tomboy with a Girly Streak of the cute witch type who can transform into anybody in the human world for one hour. This is due to her getting a magic ribbon from her alternate universe counterpart Erika, who just happens to be a princess in The Magical Kingdom. For one year, Himeko is allowed to use the ribbon as she sees fit because it is needed for Erika to study the human world. There are a few limitations, however:
If she does not turn back to normal before the hour is up, she is stuck that way until she dies.
The person into whom she transforms is still in existence.
She needs to have some way of seeing herself in order for the magic to work.
The ribbon only works on humans.
No one is allowed to learn about the ribbon's power.
You say the incantation backwards to reverse the transformation.
Stopping Time really messes up the ribbon's internal timer.
Despite the rule that no one must know about her secret, Daichi Kobayashi (Himeko's eventual best friend), is the first one to find out about it after a series of incidents she got involved with. However, if anyone finds out about it, they and everyone involved are under the threat of memory erasure. Which, while that would help Hikaru Hibino (Himeko's self-named rival for Daichi's affections) in some ways... if only someone could explain that to her so that she would stop almost discovering the secret.
The original manga was created by Megumi Mizusawa, and ran in the appropriately-named Ribon magazine from 1990 to 1994. It received an anime adaptation in 1992 by NAS and Studio Gallop, and ran for 61 episodes. It was the first of four Ribon anime adaptations to air back-to-back on TV Tokyo's 6PM timeslot.
A remake manga entitled Hime-chan no Ribbon Colorful also ran in Ribon from 2009 to 2010, created by Shiho Komiyuno, who was also responsible for Ribon's adapation of Demashita! Powerpuff Girls Z. The setting was updated to the present day, and Pokota (the stuffed lion) was replaced by a shape-changing Princess Erika (in the form of a cat).
---
This series provides examples of:
Berserk Button: Do not ever confuse Pokota with a cat. He is a lion!
The Bet: Sei's driving force for trying to steal Himeko's ribbon was all over

a bowl of ramen

.
Bland-Name Product: Beginning with the opening credits, even!
Cannot Spit It Out: Himeko goes normally through this, but keeps going worse as time goes by. She lampshades this about her crush on Kouichi at the start of the show.
Wouldn't Hit a Girl: Daichi doesn't want to hit Himeko after she apologizes for the first big fight they both had.
---
Lulerapa, lulerapa, moto no sugata ni naare!
---