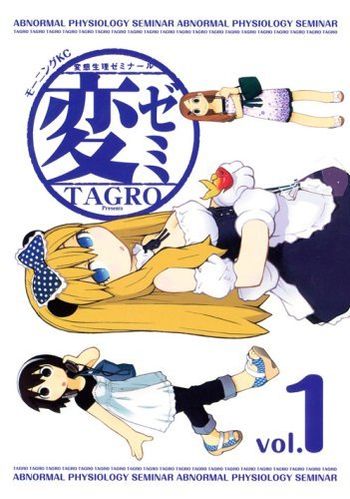 Nanako Matsutaka is a university student who is participating in an Abnormal Physiology seminar led by the deviant professor Kenji Meshiya. She desperately tries to keep her morals as well as her sanity while amidst the strange group of students in the study group.
Hen Zemi is a Seinen Manga series by TAGRO, beginning publication in 2006 on Morning Two magazine, published by Kodansha.
The series had two Animated Adaptation's, 2 OADs by Xebec in 2010, which follows the Manga in proper order, and 2011 an actual Anime Series was made, also by Xebec, which follows select stories from the manga, coupled with a few original situations.
This series provides us with a constant stream of very daringly dirty humor, which is heightened by the stark contrast with the extremely cute and pudgy animation style, the soft color palette, and the just plain casual but by no means deadpan tone in which they comment on their... strange fetishes. And they are truly strange even by anime standards. This should give you an idea of how strange they are.
The anime tones down the sexual content of the manga, where sex and their fetishes are actually shown, by making these merely topics of conversations or an abstract visual respresentation.
---
Tropes included in the work:
---