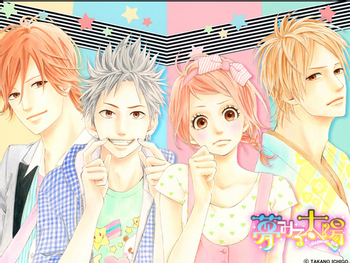 Shimana Kameko's life just plain sucks. She hates her name, only does average in school, and after her mother died and her father remarried another woman, they had a kid who now gets all the attention.
Facing these circumstances, Shimana decides to run away from home and leave school... only to find herself loitering around in a park with no destination. There, she finds a weird man clad in a kimono, who surprisingly offers her a room to stay at his house for a dirt cheap price on three conditions: tell his father, get the keys from another tenant called Zen...and have a dream to accomplish.
Shimana will thus start a new life along three very different boys: Zen, an energetic classmate who loves to draw manga, Taiga, the house's grumpy yet gentle-hearted landlord, and Asahi, the nerdy and kind boy Shimana finds herself having a crush in. Although, of course, things don't go as planned.
Yume Miru Taiyou (officially translated as Dreamin' Sun) is a shoujo manga by Ichigo Takano (who would move on to write Orange) that was published in the magazine Bessatsu Margaret from 2008 to 2011 and later compiled in 11 volumes. It's published in France by Delcourt, and in English by Seven Seas Entertainment.
---
This Series Tropes Include:
---