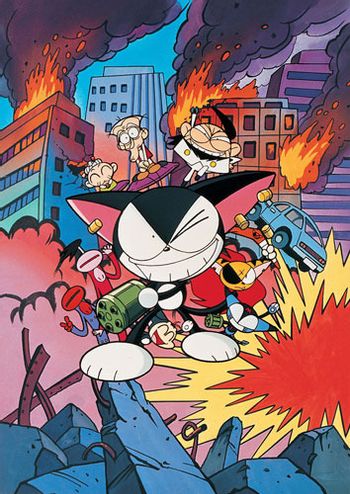 "The Strongest Cat Arrives!"

Kuro, mostly known as
Kuro-chan
, is a watch cat who protects his senile masters from petty thieves, and generally acts like a normal kitty, taking occasional naps.
One day, he embarks to confess his undying love... For a dog, but suddenly finds, that an arrow had been shot through his head...
From cyborgs and robots, to aliens and demons, an ordinary watch cat turned cyborg, finds himself going on all sorts of wild adventures, with his friends and enemies, all while keeping the guise of a normal cat to his masters.
Oh, he also has a tendency to shoot things with his gatling gun. When that doesn't work, he uses his BFS instead.
Cyborg Kuro-chan is a manga by Naoki Yokouchi, which ran in the children's magazine Comic BomBom from 1997 to 2001. It's known for its quirky sense of cartoon style, frequent use of comedic violence, and gags, to the point of being described as "like Astro Boy and Felix the Cat on acid."
It was later adapted into an Anime series from 1999 to 2001, and any instances of death or blood from the manga were notably removed. Unfortunately it was ceremoniously cancelled after a Christmas Episode because Studio Bogey (which is the production studio for the anime) suddenly went bankrupt.
---
Tropes:
---