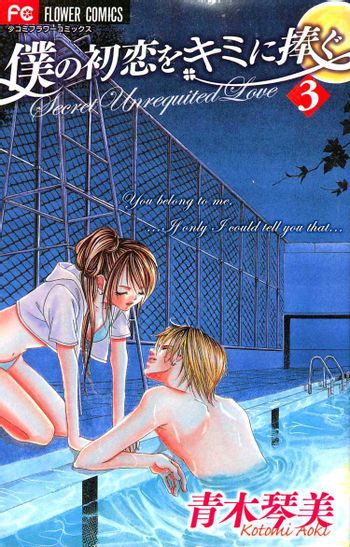 Mayu and Takuma have known each other since they were young children. She's the daughter of a talented doctor, and he, one of his patients, suffering of a heart disease. Despite always being hospitalized, Takuma always had Mayu as a gateway for forgetting about his tough life. Eventually, they end up falling in love, and they promise to marry each other once Takuma gets better and they become adults.
The only downside is... Takuma's sickness may not let him live to become twenty years old. Mayu and Takuma will have to learn to live with a limited relationship, where everything, even time, seems against them, even if there's the faintest hope that at the end they may be together forever.
Thus begins Boku no Hatsukoi wo Kimi ni Sasagu (lit. I Give You my First Love), a Shoujo manga by Kotomi Aoki that ran in Sho-Comi from 2005 to 2008, and was compiled into 12 volumes. It was originally conceived as a spin-off for the author's earlier series Boku wa Imouto ni Koi wo Suru, where Mayu and Takuya where supporting characters, but it quickly becomes a stand-alone work outside from cameos of ''BokuImo'''s main characters in a few chapters. The story differs from other drama and romance stories by following Mayu and Takuma's relationship from when they meet as children until they become adults, passing through their school years. The popularity of the manga was huge on its day, becoming one of the best-selling series in Japan and earning the 57th Shogakukan Manga Award in the shoujo category. It also inspired a live-action movie in 2007.
---
Tropes included: