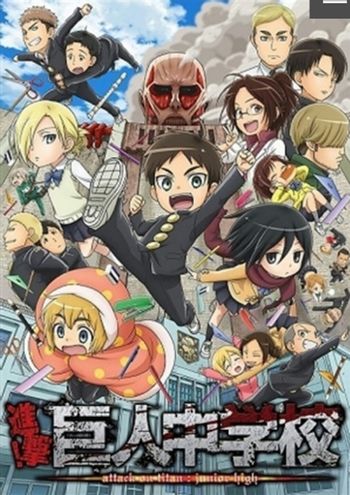 "That day, the human race remembered: the terror of being dominated by them, and the shame of being held captive in a birdcage."
Attack on Titan: Junior High (進撃!巨人中学校, Shingeki! Kyojin Chuugakkou, Attack! Titan Middle School) is a Spin-Off Babies Affectionate Parody of Attack on Titan. The manga is by Saki Nakagawa and supervised by Hajime Isayama, debuting in 2012. Taking place in an Junior High School A.U., this series follows the everyday life of Eren and Mikasa and their wacky junior high adventures. A 12-Episode Anime adaptation by Production I.G started airing in October 2015, like the main anime, it was licensed and simulcasted by Funimation with the latter receiving a broadcast dub in November.
After four years, Nakagawa concludes the manga with the final chapter being released in 2016 August Issue of Bessatsu Shonen Magazine, but it later returned with the Seishun sequel, which adapts the original's Marley arc.
NOTE: This series is a parody of Attack on Titan and many of the jokes reference material from the show. Be aware of spoilers.
---
The Seven (and counting) Tropes of Attack on Titan Junior High are:
---