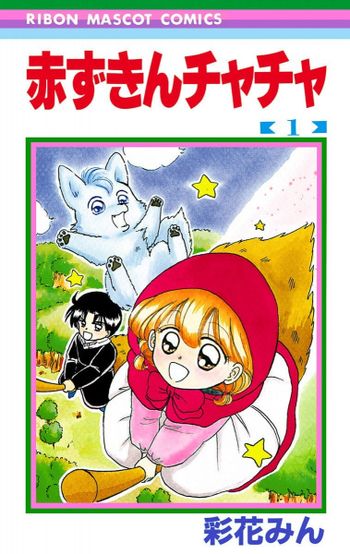 Chacha is an orphaned girl who lives with Seravy— the World's Greatest Magician— at the top of Mochi Mochi mountain. Seravy tried to teach Chacha magic, but her spells always go awry. When Chacha goes to the magic school, she meets Shiine (pronounce it She-neh), another apprentice magician, and Riiya the wolfboy. When the three are together, Chacha can transform into "Magical Princess" in order to fight the minions of Daimaou, the Great Devil King.
Akazukin Chacha (赤ずきんチャチャ, literally meaning "Red Riding Hood Chacha") is Cute Witch manga series that was strongly influenced by the Little Red Riding Hood story. Written by Min Ayahama, it ran in Shueisha's Ribon from 1991 to 2000 with 13 volumes. An anime series was produced by Studio Gallop and Nihon Ad Systems (NAS) for TV Tokyo's 6PM timeslot and ran from 1994 to 1995. In an attempt to compete with Sailor Moon, the adaptation gave Chacha a transformation that turned her into a Magical Girl Warrior, complementing it with all of the hallmarks of the now-standard magical girl anime. The anime was preceded by another of Ribon's Cute Witch series, Himechans Ribbon and would later be followed by two more Ribon series, Nurse Angel Ririka SOS, and Kodocha, all of which shared production companies. The series was quite popular during its heyday, lasting for 74 episodes and even spawning three OVA episodes from 1995 to 1996, sometime after the series ended. It even had at least four video game adaptations, appearing on the Game Boy and Super Famicom and the obscure Sharp X68000 and PC-FX.
Like with Hime-chan no Ribon before it, the anime's opening was initially performed by SMAP, though strangely, starting with a laserdisc boxset released in 1997, the theme was rearranged, with the new version being by Shoko Sawada. Apparently, JVCKenwood Victor Entertainment (SMAP's exclusive CD contracting company), King Records (who held the publishing rights for the television broadcast), and Johnny & Associates (SMAP's talent agency) couldn't reach an agreement on the rights of the song's usage, leading to this decision. Something must have been cleared in recent years as the original version of the opening was used when the series was broadcast on BS Animax from February 2020 to spring 2021, and would also used when the series was distributed on d-anime Store's streaming service on August 2021. Johnny & Associates' change in management around this time was possibly at least one contributing factor.
Time has shown to have been kind to this series, getting a significant Colbert Bump from Another Note, whose Villain Protagonist is a huge fan of this manga. In 2011, two new one-shot manga titled Akazukin Chacha N were published in the May 2011 and January 2012 issues of Cookie Magazine. Akazukin Chacha N then became a monthly series from 2012 to 2019. In 2022, the series was also featured alongside the other series in the Studio Gallop's Ribon-quartet as well as Full Moon, in a pop-up eatery in Shibuya, Tokyo, known as the Eternal Shojo Cafe.
---
This series provides examples of the following tropes:
---