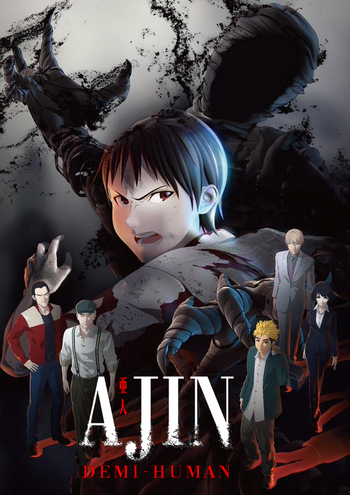 Seventeen years ago, demi-humans, otherwise known as Ajin (亜人), appeared. These are people who suddenly rose from the dead after suffering otherwise fatal injuries, who seem to be utterly unkillable. Now there are only forty-seven known Ajin in the world, and they're an extremely valuable commodity to every nation in existence for research purposes.
Enter Kei Nagai, who one day is run over by a truck, but returns as an Ajin. All of his friends immediately betray him in the hopes of getting a reward for turning him in, save for his delinquent friend Kai. Now Kei and Kai are on the run, and have to track down a small resistance group of Ajin who themselves are not too kind to humans...
Ajin was created by artist Gamon Sakurai and originally written by Tsuina Miura, though Miura left shortly after the start of the series and Sakurai took over as the writer. The manga was serialized in good! Afternoon from 2012 to 2021, and compiled into 17 volumes. An anime adaptation in the form of a film trilogy
and tv series
was produced by Polygon Pictures, the 3DCG studio behind Transformers: Prime and Knights of Sidonia, the first film being released in October, 2015 with the series following in January, 2016. It also has a live-action film adaptation that released on September 30, 2017.
The series is also the third anime to be licenced by Netflix (Following Knights of Sidonia and The Seven Deadly Sins), who released the show globally on April 12, 2016
. With the second season following on December 27, 2016
.
---
This work contains examples of:
---