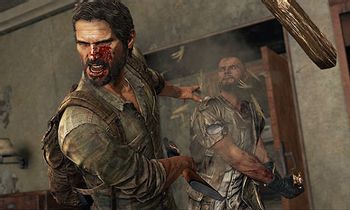 The ubiquitous 2×4, (even though it's really 1.5×3.5" in real life) found just about everywhere at hardware stores, construction sites, home renovations, garages, and just about anywhere else there's wood to be found. It's an unassuming little item, highly flexible in its possible applications, able to serve as either construction material for building a home, protecting said home against unwanted intrusion... or even an expedient substitute when a baseball bat isn't available. Bonus points if there are nails, screws, bolts or even spikes on the business end for added pain.
This trope also covers all other kinds of lumber/timber, from boards to planks and etc. of different shapes and sizes. As long as it's made of wood and used as a weapon.
Needless to say, a subtrope of Improvised Weapon. While it may seem the same as Carry a Big Stick, it falls more under Improbable Weapon User category due to the awkwardness that would be encountered when trying to wield a 2×4 as a weapon in its standard form.
---
Examples:
open/close all folders
Films — Live-Action
Live-Action TV
The A-Team made occasional use of this trope whenever BA needed to go flying for a mission, and the usual sedative wasn't available for the job.
In the BBC series The Young Ones Vivian rips up a floorboard and uses it to beat Rick over the head with.
Pro Wrestling
Jim "Hacksaw" Duggan made use of a 2×4 as a weapon.
Video Games
Web Original
Zombie Go Boom:

It has tested the 2×4 as a possible zombie apocalypse weapon, and have found that it can indeed destroy their test skull analog zombie heads. It's even stated as being Jim Goza's favorite weapon.
They also try out in making a real life version of the NERF Zombie Strike club. Which they find out is surprisingly very practical in practice.
Western Animation
In the Celebrity Deathmatch episode pitting the best known James Bond actors, Sean Connery and Roger Moore against one another, it's a battle of improbable spy gadgets. Sean Connery eventually pulls out a board with a nail hammered through it.
In the King of the Hill episode "The Redneck of Rainey Street" Kahn and Hank square off in a stick fight with 2×4s, with the latter trying to talk the former out of his adopted redneck lifestyle.
Real Life
In Los Angeles, California, a pitbull attack on an animal control officer was caught on tape while the officer was investigating reports on said animal. While the present camera crew failed to stop the attack, a neighbor came to the rescue and beat the dog off of the officer with a 2×4.
---