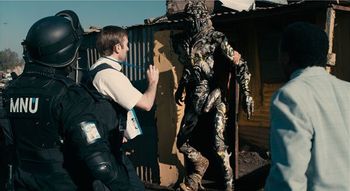 A sci-fi / fantasy trope.
Let's say, for instance, that you are a perfectly normal human being living in a perfectly normal house in a perfectly normal urban community. Every day you wake up, you go to work or to school, you come home and have dinner. You have perfectly normal friends and family you enjoy doing perfectly normal things with. Also, your neighbor is, say, a robot. And your robot neighbor lives in the perfectly normal house right next to yours. He also gets up every morning and goes on with his robot affairs. And as the both of you walk down the street, side by side, you meet other humans just like yourself, sure, but the robot community is there as well, minding their own business just like you do. And nobody thinks it's weird because, you see, they walk among you.
That's the main gist of this trope: in an otherwise normal world not too different from our own, humans share the world with something distinctly nonhuman, or at least abnormal or fantastic; another sentient species, or a different kind of being altogether. Their presence in the world is not regarded differently in any way from how we look at all the different races and ethnic groups here. Needless to say, Fantastic Racism tends to ensue, but though this is a common staple, it's not a necessity.
Related tropes include:
Fantasy beings Walking Among Us is often a component of a Magic Realism setting. For beings who Walk Among Us without our knowledge, see The Masquerade.
Not to be confused with Among Us.
---
Examples:
open/close all folders
Advertising
The alien from the Babbel language course commercials, who despite looking somewhat like a Xenomorph Xerox finds that his greatest social impediment is the language barrier (until he uses Babbel to learn English of course, then he gets invited to dinners and tells funny jokes to the humans there).
Modern-day cavemen in the famous GEICO commercials.
Anime & Manga
According to Yuki, Data Interfaces, time travelers and members of the Organization have completely infiltrated North High because of the titular character, Haruhi Suzumiya. Proven in the eight novel,

where the Student Council President is a representative from the Organization, and the secretary is a Data Interface named Emiri Kimidori.
In Lyrical Nanoha, pretty much any clones, programs, cyborgs, etc. are politically considered people and therefore blend into society to the extent that most of the active characters aren't even regular born humans.
Not only are the titular critters all over the place in Pokémon, but they often appear to have replaced every sort of real animal.
Any Macross series that takes place after Super Dimension Fortress Macross is likely to include some thirty-foot tall Zentraedi walking around and nobody really blinking an eye. Macross Frontier even has a mixed-size shopping mall, where some human characters hang out with a Zentraedi friend by being on the third floor, equal to her eye level.
Comic Books
Mutants in X-Men. Even Nightcrawler can walk around undisguised and few people seem to care. (One issue has him and Wolverine walking around in public and 'Crawler worried about it... only for a pretty girl to slip him her phone number.)
In fact, superhumans from both Marvel Comics and DC Comics often walk among normal humans with little fanfare.
The Bone Cousins in Bone. People remark that they're funny-looking a few times but it seems to be more of a case of them being from another part of the world. A later book show a more cosmopolitan city, with plenty of fey-like or gnome-like creatures, so it's no surprise the Bones would be ignored.
All manner of bizarre creatures in Hellboy, including the titular character, despite looking like a Big Red Devil.
Costumed Heroes in Watchmen.
The titular characters in Elephantmen— Half-Human Hybrids of hippos, elephants, and various other African megafauna.
In Arrowsmith, various fantasy races such as trolls live alongside humans; albeit as second-class citizens in many places.
Fan Works
The The Conversion Bureau genre typically consists of the Kingdom of Equestria popping up on our Earth and setting a divisive cultural exchange in motion — whereas humans may not enter the Equestrian island, which is protected by an anti-human forcefield, many ponies travel and settle in human countries. In most iterations, racism and political strife on both sides usually destroys any chance for peaceful coexistence, and end with one side forcefully usurping the other.
Essentially describes the Doctor's final plan to deal with the T-Virus in Dangerous Tenant; having determined the nature of the T-Virus, he intends to modify it into a new form that he calls 'the D-Virus', which will infect humanity and preserve the virus's existence without actually causing any kind of mutation to the subject and rendering them immune to infection from other strains of the virus.
Films — Animated
In Pixar's The Incredibles, Supers go through most of their lives just like everyone else.
Films — Live-Action
Literature
Thursday Next blatantly plays with the Fantasy Kitchen Sink. The first of its two main "gimmicks" is that genetic engineering has allowed humans to resurrect several extinct animals, and as a result, mammoths migrate through Swindon, dodo birds are the popular pet of choice, and Neanderthals fight discrimination from humans and live in their own separate, politically anarchic (but peaceful) communities. The second gimmicks involves living literary characters. It's complicated.
Fairy tale and nursery rhyme characters in Nursery Crime.
Monsters and occult powers in the Anita Blake series.
Robots in Isaac Asimov's science-fiction. They're never treated as equivalent to humans, but the human response to them frequently echoes something from actual human history. Earth society resents them for displacing human labor (similar to the way many societies treat immigrants), while Spacer society treats them like slaves, generally ignoring them unless there's something they want a robot to do.
Discworld. Particularly in Ankh-Morpork, which is inhabited by humans of many ethnicities, trolls, dwarves, gnomes, vampires, golems, small gods, the occasional talking dog ...
Vampires in The Sookie Stackhouse Mysteries and later

weres.

In Tales of a Sixth-Grade Muppet by Kirk Scroggs, Danvers can't remember if the entire cast of The Muppet Show always lived in his home town, or if it just happened after his transfromation. No-one else seems to find it odd.
Live-Action TV
Video Games
Web Comics
Web Original
The Orion's Arm worldbuilding project includes every possible kind of being in a science fiction setting (genetically modified humans, uplifted animals, robots, cyborgs, sentient vehicles, etc.) co-existing in the same interstellar civilization.
Due to the Mega Crossover nature of the PPC, it is not exactly uncommon to see a protoss, an earth pony, and a World-1 human walking the same halls.
Western Animation
Magical creatures in American Dragon: Jake Long.
Toons again in Bonkers. The "human" characters were also animated, so they made them a bit more realistic and detailed than is standard for Disney fare, to make it easier to differentiate.
Family Guy features bipedal, sentient animals (such as deer or dogs) of human-like intelligence; who have (nearly) the same rights and privileges as humans (such as insurance policies). The main example would be Brian; who's allowed to drink alcohol, go to college, and even date human girls (a guy in the case of his cousin); all without anyone batting an eyelash. Usually. Sometimes the show treats Brian like a dog (conveniently ignoring the bipedalism and power of speech) when the plot calls for it. They even had Peter randomly shout "Ah! Talking dog!" before the break in one episode. In general, they go with whatever would be funnier in the circumstances.
The titular creatures of Foster's Home for Imaginary Friends.
Aliens, robots, and other science-fictiony things in Futurama.
---