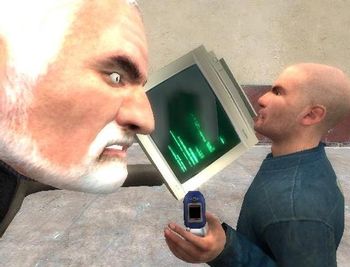 DATELINE: November 22nd, 2008, location unknown—
Out of darkness, from one of the deep arcane corners of the Internet, a man emerges. This man's name is Das Bo Schitt, and he holds the power of Garry's Mod at his fingertips. His mission is simple: Blow. Your. Mind.
Thus, The Gmod Idiot Box is born.
Bo Schitt's Youtube series, described by some as "Valve meets Robot Chicken meets explosions", consists of an episodic mashup of skits created using the titular video game mod and set to all manner of sound clips and effects. Recurring skits include:
The episode intros: Das Bo Schitt and his Metrocop fan #1 deal with such problems as DBS slacking off on new episodes and various Youtube annoyances.
Harmless Shenanigans(?) with Chuckles the Cheat: Chuckles tries to play a prank, which somehow causes far more harm than intended.
Pet Peeves The Aggressive Way With Father Grigori: The good priest deals with common grievances in a completely audacious manner.
I'm Mac and I'm PC: PC gets constantly annoyed by Mac's superiority and often attacks him in many ways.
As of April 24, 2015, the Idiot Box clocks in at fifteen full installments, and Bo Schitt has created a metric crapton of video shorts (called GIBlets) that either tie in with the main episodes or stand alone. You can watch his works in chronological order here
; here
is his main channel with the other stuff. Also, beginning with Episode 12, the series became fully episodic, with the cold opens taking on an episodic arc that started in Episode 10 and continued through Duke Nukem Foreverquest in which DBS gets a new face, only to have #1 change it back when the Internet detested it but failing to update his driving license thus getting DBS jailed when he attempted to buy liquor with it, #1 busting him out of jail after stealing Gordon Freeman's buggy, and Gordon Freeman Roaring Rampage of Revenge on #1 after finding out who stole the buggy, only to be killed by the hit-shears hired by the thug informant, and then revealing a bigger bad is watching the duo. Aside from that, characters like Chuckles the Cheat are undergoing character progression — Chuckles has reformed fully as of Episode 14 and now works as an apprentice of Dr. Hax.
Another movie of Bo Schitt's, Duke Nukem Foreverquest, is in continuity with the Idiot Box, taking place after the events of Episode 10. It may be the beginning of a series. Aside from that, Bo Schitt has also started a side series, Youtube Avenue (co-written by and co-starring Takahata101 from Team Four Star), which is rife full of Take Thats against LPers. (Mainly The King of Hate.)
Unfortunately, the channel went inactive in 2017, with no new content since. Still, it remains up for one's viewing pleasure.
---
This work provides examples of:
The representation of Mac computers always seems to fail or break in one way or another, each one a dig at the Mac's flaws (Expensive to replace, etc.)
Averted with Renamon in later episodes, with her being used more as a source of comedy than a literal Butt Monkey.
Michael De Santa in Episode 14 only.
---
HAAAAAAAAAX! *klunk*
---