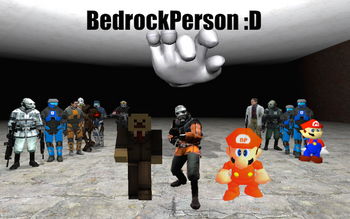 ---
Alright full disclosure, yeah, I wrote a
TV Tropes
page about myself. I was a stupid 14-year old, I didn't really... realize how totally conceited this whole thing is. So, hey, thanks for the lookie. I apologize for what's ahead.
---
BedrockPerson
is a rather little known
YouTube
user that started out in 2013. Since then, while having a small fanbase, has become popular in the
SM64 Machinima Community
, even gaining attention from SM64B greats such as SMG4 and MarioMario54321
More specifically, there are 3 main series on the channel, the sparsely-updated Minecraft, the ended mega-popular Super Mario 64 Bloopers series, and the incumbent G-Mod series, The Wonderful Misadventures of Jerry and Joe.
There is a second channel
for extras and behind-the-scenes looks.
---
Tropes Also Included:
---