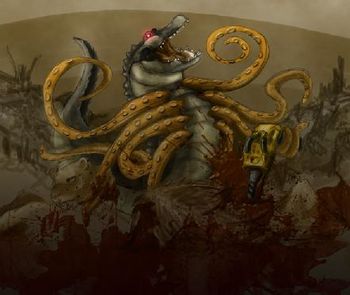 It is a timeless struggle, a battle that has been fought countless times: the elemental conflict of crocodile with octopus legs and power tools versus giant sturgeon stuck onto a tank with a sword and a jet engine for a voice.
— Zoofights, in a nutshell.
Zoofights is an interactive story series hosted on the Something Awful forums, led primarily by the user Major Failure. Each "arc" of Zoofights (there have been six as of this writing) is about large and deadly animals facing one another in a blood sport that is both futuristic and old-timey (Zoofights 3, for example, took place in the late 1800s despite the extremely advanced technology present. They just wanted to have all the bystanders wearing monocles and top hats).
While it includes the odd scripted event, the outcome of Zoofights is not up to Major Failure or any of the people who actually write it. Rather, before each match, the readers are encouraged to vote for their winner, and their votes carry more weight if they come with fan art or detailed explanations of their choice (Simply saying "I vote for Steamcrab" results in your vote just being ignored. You need a reason).
As of Zoofights 4, a random element was added. Previously the winner was simply whoever had received more votes. In Zoofights 4 the numbers are plugged into a random number generator to get a result (as in, if monster 1 got 20 votes and monster 2 got 80, if the random number generator selected a 20 or lower monster 1 would pull off an upset).
Staples of the series include mutant animals, animals with parts of other animals attached, heavily mechanized animals, and one entrant growing so powerful that the remaining normal ones must join forces to defeat it.
The series has proved to be a winning formula, spawning lots of fan art (mostly drawings, but everything from plush toys to clay sculptures have been made) and a devoted community of fans further adding to the experience by role-playing as spectators.
Due to the fact that it is a Something Awful forum attraction, the first two Zoofights cannot be viewed by the average Internet denizen due to being too old, therefore requiring a Something Awful Archives account (which costs money). The third
is available for public viewing regardless of whether you have a Something Awful forum account, as is the fifth one
; however, the fourth
requires the Archives account upgrade. Fortunately, all of the Zoofights story arcs save the second are currently hosted on the Zoofights website
, and the (now over) Zoofights 6 can be seen here
, since it's thread of Something Awful cannot be seen by non-members currently.
The Eighties-themed 6th series began on May 1st, 2011, and ended six-and-a-half months later.
In 2012, the Zoofights blog
changed its format from an annual tournament to a series of "What If?" fights.
---
This Web Original work includes examples of:
Berserk Button: Never, EVER call Croctopus "rubbish".
Big Bad: There's never an obvious one at the start, but just give it time...

Zoofights 1 -

Swanmass, a disgusting blob of swan and gorilla meat that absorbs dead creatures into itself to grow.

Zoofights 2 -

Das Ziegenmancer, a goat capable of raising the dead. He eventually is replaced by a reformed Swanmass.

Zoofights 3 - Jack the Ripper, his mutant creation From Hell, and Father Leo McGarry, a priest fused to a demon's wings
Zoofights 4 -

Elohim, a centipede/alien hybrid, and Seanet, a gathering of psychic cephalopods of various sizes

Zoofights 5 -

Gamma Constrictor, a time manipulating anaconda who has fused with an aircraft carrier filled with hate.
Bigger Is Better: Edward Tigerhands from Zoofights 3 was absolutely colossal in his final battle.

He still lost, though. Granted, he was fighting a demon that could control the four horsemen of the apocalypse...
Brick Joke: Zoofights 5 -

The drinking contest Punchules the Magnificant wanted to have with The Snapture
Cult:

Elohim

has at least one devoted follower.
The Walrus hails from post-apocalyptic New Zealand, where crazed druids worship the walrus character from the arcade game "New Zealand Story".
And in Zoofights 6, Black Rabbath had a small army of followers with him in battle, serving mostly as disposable mooks.

Curb-Stomp Battle: The first semifinal of Zoofights 4 (

Ned Killy vs. Tangaloa

) and Oh The Huge Manatee's first battle against the Tapogres.
Dartboard of Hate: Robotnik has a Lesko dartboard in his Death Egg.
Gargle Blaster: These are the specialty of Gezora, the Zoofights bartender. In fact, there are more Gargle Blasters than ordinary drinks.
Hoist by His Own Petard: Zoofights 5's final saw

an angry Croctopus tear off Fists O'Batahan's arm and brain him with his own elbow, the bat's signature move.

Holy Hand Grenade: The secret weapon of

Centipope

is a Holy Hand Grenade.
Hope Spot: Major Failure loves this trope. Virtually every battle swings back and forth a few times. One of the most ridiculous Hope Spots in all of history was the Loser's League Royal Rumble in Zoofights 4. All of the combatants realize that Elohim is the one to beat, so they all gang up on him, but he effortlessly sweeps them aside, killing two of the five in the process. Cue Wolfbike and his new companions Cheetahbike and Dogbike, followed by incredibly awesome pictures of the fighters jumping on the "Zoobikes", including a glorious Enemy Mine that shows Slammonite and Wolfbike putting aside their differences and teaming up and one of the downed warriors returning through a dimensional void from an alternate universe where he was stronger... And in the next drawing Elohim effortlessly kills them all... all but ONE, Once Were Walrus, who gives us ANOTHER Hope Spot, which also ends in brutal annihilation by Elohim.

Name-checked in V, Sting Kong vs. Barbarrimundi.

The moment labeled "HOPE SPOT" is when Sting Kong manages to get in a serious strike on Barbarrimundi. The Hope Spot is shown to be your average Hope Spot when Barbarrimundi won anyway. There's also Wolfbike's reappearance in the Snakefights final as he falls to earth as a meteor... and burns to ashes on reentry.
Large and in Charge: Presidential Seal, who as the name suggests, is an elephant seal who also happens to be President of the USA.
Smoking Is Cool: In Zoofights 5, Major Failure at one point notes that the Zoofights corporation has received a large number of cigars as a "gift" from the BRUT-05 team. He then encourages everyone to smoke. A dozen or so roleplayers obligingly edited their role-play pictures to make their characters smoke.
Soulless Shell:

The Drillbjorn clone used by European Onion.

Naturally led to Stiff Upper Lip.
Squishy Wizard:

The Delegation has very powerful psychic abilities but cannot fight in actual hand-to-hand combat at all.
Das Ziegenmancer from Zoofights 2 has complete control over dead flesh, but in every other way he's just a regular goat.

Sssssnaketalk: Zoofights 5 -

Half the spectators, after Gamma Constrictor turns Zoofights into Snakefights by altering reality.
Stuff Blowing Up: It's a tradition to have a large explosion of some sort in the finale.

Zoofights 1 -

Thousands of radioactive tarantulas swarm Swanmass and go nuclear.

Zoofights 3 -

Steamcrab self-destructing to attack From Hell.

Zoofights 4 -

Elohim self-destructs to kill Seanet

Zoofights 6 -

Hardcore Prawn unleashes the full might of six lobsterbots at once on Vighneshvara and Armour Dio.
Take a Third Option:

Actually started earlier with Smash Gordon vs. Sturgeon General. A few people voted for Smash's more-intelligent bulldog Nelson, who escaped in a rocket (until Smash's next round). After Sega and Ro-Boto's "Friendship" more Third Option votes started showing up like "BOTH FIGHTERS DIE" and "Aircraft Carrier Full Of Hate" (eventually made into a Loser's League battleground) and the organizers had to put a stop to it.
Since they're the only truly heroic characters in ZF6 there's been several friendship votes for

Two Badass Pangolins and Armor Dio

.
Take Over the World:

Zoofights 1 -

Swanmass was eventually going to devour everything on the planet if left unchecked, thereby Taking Over The World by default.

Zoofights 3 -

Jack the Ripper, using his monstrous creation From Hell.

Zoofights 4 -

Both Seanet and Elohim (Accept his love - and psychic brain eggs - or be destroyed).

Zoofights 5 - Twice.

The story opens with Seanet having successfully returned and taken over the planet. They make an attempt to keep their hold over the earth by hijacking Aggronaut's mind, but failed. Later, Gamma Constrictor altered reality to make himself a god-king, perhaps intending to take on Seanet after squashing what was left of the Zoofighters.

Zoofights 6 - It seems Kray Fish's been getting some ideas from Heart of Darkness and The Snapture has returned...

Taking You with Me:

Elohim's final "screw you" to Seanet, Dred Zeppelin, Ned Killy, Jupiter, and everyone on board the ship the final battle is taking place on.
---