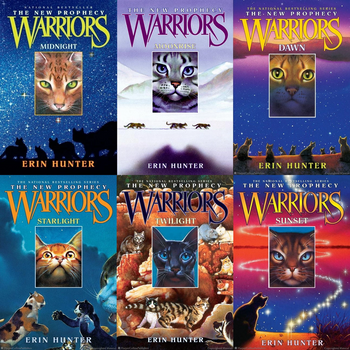 "Darkness, Air, Water and Sky will come together and shake the forest to its roots."
The New Prophecy is the second arc of the popular Warrior Cats series by Erin Hunter. Unlike the previous arc, The New Prophecy shifts the focal point between multiple characters.
One and a half years after the battle with BloodClan, the Clans seem to have finally found peace. However, a mysterious new threat to the forest is appearing, and StarClan selects four cats, one from each Clan, to embark upon a journey to save the Clans. Chosen from ThunderClan is Brambleclaw, son of Tigerstar, who fights not only to save his Clan, but also to prove that he is different from his cruel father. Meanwhile, Leafpaw, daughter of Firestar, worries about her sister Squirrelpaw who has chosen to join Brambleclaw's group as the Clans face total anihilation. And strangers are appearing with shocking connections to the events of the past.
Yes, that's how it is.
---
The New Prophecy provides examples of:
Arc Words: "Darkness, Air, Water and Sky will come together and shake the Forest to its very roots. Nothing will be as it was or as it has been." and later "Before there is peace, blood will spill blood, and the lake will run red."
Bait-and-Switch: The prologue of Twilight is designed to make you think that Firestar is the cat being warned of their imminent demise.

It's actually Cinderpelt.
Darker and Edgier: The first half of the arc, which is focused on a complete destruction of the forest, Graystripe being kidnapped, starvation, and poisonings, and the struggles of migration. Makes the events of the original series look light in comparison.
Demoted to Extra: Firestar, Sandstorm, Graystripe, Ravenpaw and Cloudtail are just some of the main characters who have been pushed into the background.
Doomed Hometown: The forest is destroyed thanks to Twolegs, prompting a journey to find a new home where the rest of the series takes place.
The Friends Who Never Hang: Most of the cats on the journey have some way in which they play off each other. The least interactive of the cats is Tawnypelt, who doesn't develop much of a rapport with Stormfur or Crowpaw.
Gender-Equal Ensemble: The cats chosen for the journey to the ocean are two toms (Brambleclaw and Crowpaw) and two shecats (Tawnypelt and Feathertail). Two more cats come along, and they are also one male (Stormfur) and one female (Squirrelpaw).
---