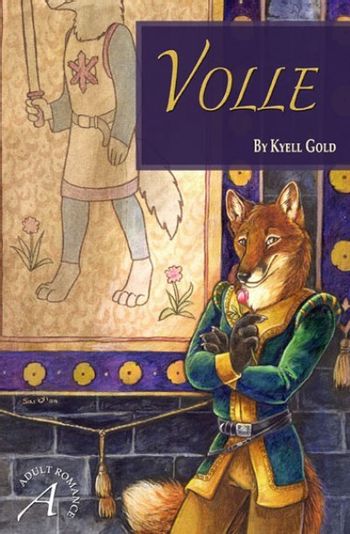 Volle (2005) is an adult, anthropomorphic animal-novel written by Kyell Gold. It takes place in the world of Argaea, a furrier version of our medieval times. Ferrenis and Tephos are two reigning powers in this world, and when word gets out that Tephos is planning an attack against Ferrenis, their kingdom summons a group of three to spy on Tephos and gather information. Seir (mouse), Reese (rabbit) and Volle (fox) travel to Tephos and settle into their new lives in and around the palace. Seir poses as a commoner, Reese as a merchant, and Volle as the thought to be long dead lord of Vinton. The stories obviously focus on Volle from then on out, who soon discovers that he must find a way to balance his promiscuous ways with the responsibilities of his mission.
The story arc began in an adult furry magazine, Heat, in a story called Prisoner's Release, about a fox in prison and a wolf coming to "torture" him. This story was eventually re-written in novel form and released, along with other tales, in the novel Prisoner's Release and Other Stories (2007).
Pendant of Fortune (2006) was the second novel, detailing the events after Volle and his newfound lover, Streak, return to Tephos after living on a farm for several years. Volle discovers that Dereath hasn't wasted time in slandering the fox's name over the years, and accusations quickly arise against him, which he must clear his name against.
Shadow of the Father (2010) is the third actual novel, taking place from the perspective of Volle's second son Yilon, a fox who is thrust into lordship and sent on a mission to Dewanne with his friend and lover Sinch, a mouse. He soon realizes that, for some reason, the people of Dewanne aren't too fond of mice, and more so dislike the idea of having a fox who loves a mouse as their lord.
Weasel Presents: Tales from Argaea (2011) is an anthology containing short stories dealing with several characters before, during and in between the events of the other three books.
"Sibling Rivalry" (2013) is a short story published in the anthology What Happens Next
that takes place during Shadow of the Father and is told from the perspective of Volle's first son Volyan, who is not exactly taking his younger brother's ascension to lordship well.
---
The novels of Argaea contain examples of:
---