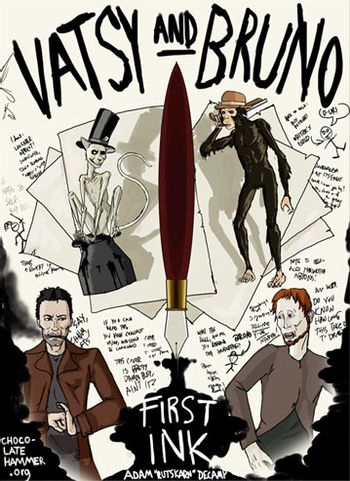 Would you be so kind as to submit to an interview if the alternative was being shot?
Vatsy and Bruno, written by Adam "Rutskarn" DeCamp and hosted on the website Chocolate Hammer, is a dark humor web series whose first episode, First Ink, has reached completion. Each episode is to be written in serial format, with each weekly post being about three pages of text.
The eponymous characters, Vatsy and Bruno, are a pair of vaguely human animal-like creatures. Vatsy, a gaunt and emaciated feline, is a high-strung unscrupulous journalist to whom sanity, sense, and soap are things that happen to other people. Bruno, his loyal bodyguard/henchman/errand guy, is a chimp with an easygoing personality, a bone-deep stoicism, and a large-bore sawn-off shotgun. Together, they fight crime—er, search for the perfect news story.
Vatsy and Bruno is somewhat twisted, fairly dark, and ever-so-slightly absurd. Much of the humor comes from the off-kilter nature of the heroes, the strange happenings in their environment, and the constant deconstructions of tropes and stock characters in media.
Vatsy and Bruno, as well as a full-size version of the current cover, can be found here.
---
This work of fiction provides examples of:
---