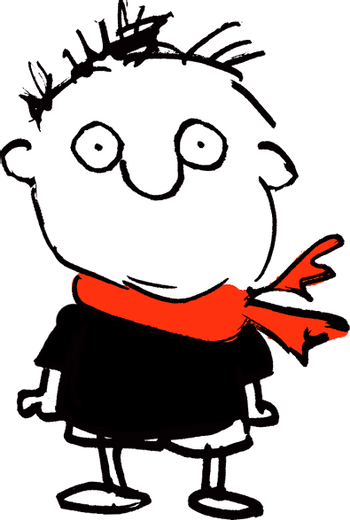 Timmy Failure is a series of children's books by Stephen Pastis. It follows the story of Timmy Failure, a nine-year-old boy detective, who believes that he is the greatest mind of all time. Along with his business partner, the 1,500 pound polar bear Total, and his best friend, studious and intelligent Charles "Rollo" Tookus, Timmy leads his detective agency Total Failure, Inc. in solving crimes and defeating evil forces, such as Timmy's arch-nemesis, the "villainous" Corrina Corrina, and "criminal mastermind" Molly Moskins, who is largely infatuated with Timmy. However, Timmy is too clueless and egotistical to even realize the simplest clues to a mystery, resulting in near failures.
The series consists of seven books:
Timmy Failure: Mistakes Were Made
Timmy Failure: Now Look What You've Done
Timmy Failure: We Meet Again
Timmy Failure: Sanitized For Your Protection
Timmy Failure: The Book You're Not Supposed to Have
Timmy Failure: The Cat Stole My Pants
Timmy Failure: It's the End When I Say It's the End
Timmy Failure: Zero To Hero, a prequel to the series, officially marked as the "zeroth" book.
The main characters are:
The titular Timmy Failure, who believes he's the greatest mind of his time when in reality, he's a bit Book Dumb.
Fat genius Rollo Tookus, Timmy's "best friend"

although Timmy believes he's "boring"

.
Cloudcuckoolander Molly Moskins, who's in love with Timmy.
Corrina Corrina, AKA 'Weevil Bun', 'Satan', 'The Evil One', 'The Wedgie' and several other names. Timmy thinks she's evil.

In the third book, it's revealed he has a crush on her. He doesn't act like he does.
Stephan Pastis revealed during his 2015 book tour that a feature film is to be in development by Disney, however, he's also warned that it'll be very toned down for audiences. It would later be revealed to be one of the first feature films set for Disney+ from director Tom McCarthy. It was released on February 7, 2020.
---
The best usages of tropes in town, probably the state, perhaps the nation...
---