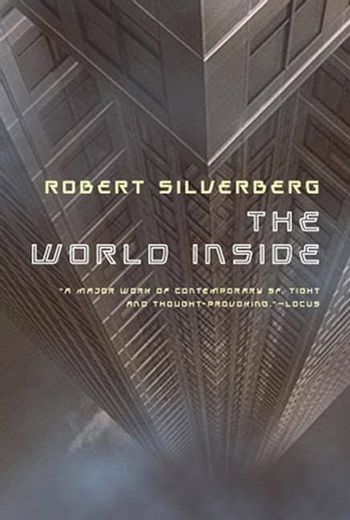 "Today's population figure at Urbmon 116 is 881,115, which is +102 since yesterday and +14,187 since the first of the year. God bless, but we're slowing down! Across the way at Urbmon 117 they've added 131 since yesterday, including quads for Mrs. Hula Jabotinsky. She's eight­een and has had seven previous. A servant of god, isn't she?"
— The World Inside, News Screen
The World Inside is a book by Robert Silverberg, written in 1971. A science fiction, it's set more than 300 years in the future, in 2381. The setting is a world where we encourage birth, have abolished any kind of birth control, and as a result the population is proudly boasting a figure of 75 billion. The belief in human birth is almost religious in their fervor for it, and any talk of suppressing birth is considered a serious social taboo, worthy in some cases in death by being thrown down an chute where your body will be converted into energy for the buildings they live in. The buildings they live in are the secret to their massive population, 1000 story high "Urbmons" which can house 885,000 people arranged by clusters of 25 self contained cities arranged through the floors, with 40 floors constituting a city. These Urbmons are arranged in constellations, which allow each building to not be in the shadow of another. The theoretical limit of the population supported by this arrangement is estimated to be 200 billion. The compacting of people in Urbmons this way has left seven-eighths of the land mass in the world to be used for farming. The farmers live in small communes and are completely separated from the Urbmon society, even having their own language and customs.
The population growth has skyrocketed at such a rate that 3 billion excess population occurs every year, causing the need for new Urbmon buildings to be built every year. The dwellers of the Urbmons share scant resources and believe that sharing of everything is required in order for people to peacefully co-exist in close quarters. The sharing extends to wives and husbands, believing that being able to have sex with whoever without fear of rejection eases tensions and frustrations. This ideology lead to the practice of "Night-walking", where the men (and women, but less often) of the Urbmon community can roam the floors of their building and find other partners. It is considered a capital crime to refuse an invitation for sex.
In this society it is a blessing to have children: most people are married at 12 and parents at 14. Your security in your area is also related to having kids, and those who lack children would be the first chosen to go to new Urbmons, and the last to get suitable apartments in the Urbmons. All life is inside, and no one wishes to leave anymore, the desire to roam outside considered grounds to declare you insane, "a flippo", and they may eliminate you as a result. "Social engineers" reprogram those who are approaching an unacceptable level of behavior, however if this behavior is too "extreme", equal measures are taken. Given the extremes of life in the Urban Monads, law enforcement and the concept of justice employ a zero tolerance policy. There are usually no trials, and punishment is swift; anyone who threatens the stability of the Urbmon society is "erased" by being thrown into a shaft that terminates in the building's power generator. This is seen as being for the good of all the Urbmons and so everyone in society accepts it.
Because of the need to live in such close quarters with everyone else, the ideas of privacy, jealousy, ambition and greed have all but been dispensed with.The class system has now been generally dispensed with, but it can be seen through the levels, with the lowest levels (1-400) being the generator levels and the engineers and the top (960-1000) levels being administrative levels widely known to be those in power.
---
The World Inside contains examples of:
---