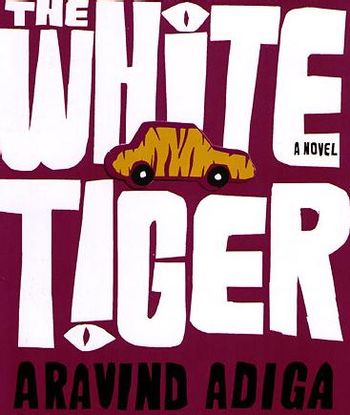 School inspector: You, young man, are an intelligent, honest, vivacious fellow in this crowd of thugs and idiots. In any jungle, what is the rarest of animals—the creature that comes along only once in a generation?
Balram: The white tiger.
School inspector: That's what you are, in this jungle.
Chock full of satire and black humor, The White Tiger depicts the life of Balram Halwai—the eponymous White Tiger who only comes 'once in a generation—of how he starts as a lowly driver from the Darkness of India and manages to become a successful social entrepeneur with cunning, intelligence, and murder.
Told in the format of a series of letters to Wen Jiabao, the Premier of China. (Yes, It Makes Sense in Context.)
It is author Aravind Adiga's debut novel, and won the Man Booker Prize in 2008. It was adapted into a 2021 film directed by Ramin Bahrani and starring Adarsh Gourav as Balram, Rajkummar Rao as Ashok, and Priyanka Chopra as Pinky.
Not to be confused with White Tiger.
---
This novel provides examples of:
Animal Motifs: The white tiger. The "tiger" part representing the idea of strength and ruthlessness, while the "white" refers to willingness to be different from others and break from all conventions. A few other characters have animal motifs related to them, most notably the landlords of the village of Laxmangarh.
Arson, Murder, and Jaywalking: Whenever Vitiligo-Lips asks Balram if his master wants anything.

Vitiligo-Lips

: Been thinking about what I said,

Country-Mouse

? [...] About getting your master something he'd like? Hashish, or girls, or golf balls? Genuine golf balls from the U.S. Consulate?
Crapsack World: The Darkness, where all the poverty-stricken people reside. Keep note that the rural Indian society, as such, is full of rampant corruption within politicians and policemen and pretty crappy to live in if you're not rich.
Unreliable Narrator: All we know is what Balram writes. Given that he is a confessed murderer, thief and fraudster the reader should not take his statements at face value. Even if we foolishly assume he is perfectly honest, it is entirely his self-justifying rememberance and his perspective we get.
---