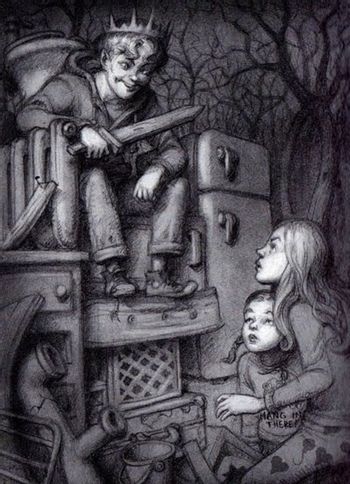 The Sisters Grimm is a children's fantasy mystery book series written by Michael Buckley and illustrated by Peter Ferguson. The series consists of nine novels published from 2005 to 2012, which collectively tell a Fractured Fairy Tale based around crimes that happen in the small town of Ferryport Landing.
Ferryport Landing is a town where nothing is what it seems and fairytale creatures, called Everafters, roam the streets. Sometimes, mass destruction follows them, and somehow, none of the humans notice the strange magical happenings, although this can be attributed to the effects of "forgetful dust".
The main protagonists, sisters Sabrina and Daphne Grimm (respectively 11 and 7 years old at the start of the series), are related to The Brothers Grimm. After the girls' parents disappear mysteriously, they skip around foster homes and end up going to live with a grandmother they didn't know they had. Upon learning of the existence of Everafters, they join the family business of solving mysteries, which are possibly linked to the disappearance of their parents, all the while dealing with the 4000-year-old trickster fairy Puck.
However, the Everafters are kept in Ferryport Landing by a magical barrier, and within the town exists a group of Everafters with plans to escape and Take Over the World known as the Scarlet Hand. As the only known way to destroy this barrier is to kill all members of the Grimm family, the sisters' mysteries end up building to an all-out war against the Scarlet Hand.
All the books, in order, are:
The Fairytale Detectives
The Unusual Suspects
The Problem Child
Once Upon a Crime
Magic and Other Misdemeanors
Tales from the Hood
The Everafter War
The Inside Story
The Council of Mirrors
---
Tropes and other misdemeanors:
The Mad Hatter: The real Mad Hatter who was the judge in a court case.
She Is Not My Girlfriend: Sabrina has to tell

her mom and dad

that Puck is not her boyfriend as they watch him pull a prank on Sabrina.
---