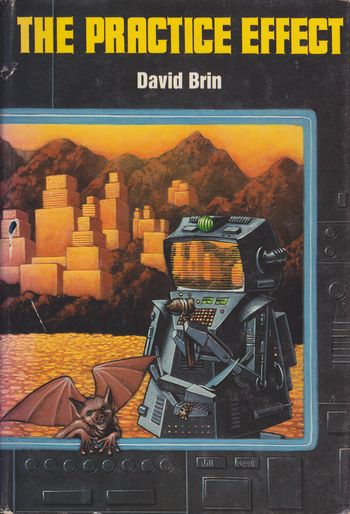 "There was that word again... practice. Dennis was getting sick of it. He got a gnawing sensation whenever he heard it, as if his subconscious were trying to tell him something it had already figured out. Something another part of him was just as frantically rejecting."
The Practice Effect is a 1984 novel by David Brin.
The Zeivatron - a device that allows travel between parallel universes - is broken. The robots being sent to the other side are not returning. Dennis Nuel is chosen to go through and repair it from the other side.
Finding the Zeivatron sabotaged beyond repair he finds himself stranded on Tatir, a world not unlike like our own but with one major difference - with use any object becomes better, instead of wearing out. A flint knife gradually becomes a razor sharp knife, but if left alone reverts back to its original state.
With his knowledge on how to make things, Dennis finds himself forced to serve as the Big Bad's "wizard".
Tropes used in this book:
---