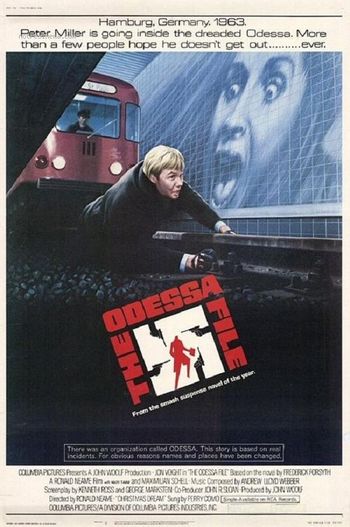 Frederick Forsyth's second most famous novel, published in 1972 and adapted two years later into a film directed by Ronald Neame and starring Jon Voight and Maximilian Schell. Said film also features Mary Tamm, who would later appear in Doctor Who.
ODESSA, as stated by Forsyth in the foreword, has nothing to do with the Ukrainian port, but is the acronym for "Organisation der ehemaligen SS-Angehörigen", in English "Organization of Former Members of the SS", an organisation that may or may not have existed to protect former SS members.
Set in 1963 (starting on the night of the Kennedy assassination), the novel follows Peter Miller, a German journalist investigating the suicide of a Jewish man in Hamburg. Miller acquires his diary and sets out to find Eduard Roschmann, the former commandant of the Riga concentration camp. As he does, he discovers a plot to destroy Israel using German electronics and Egyptian bio-weapons...
---
This work contains examples of:
---