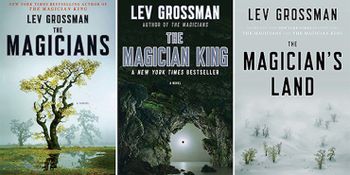 The Magicians is the first in a trilogy of Urban Fantasy novels by Lev Grossman.
Quentin Coldwater probably wasn't expecting much more from his day than an entrance interview to Princeton and an awful lot of boredom and amateur magic tricks, with perhaps a few daydreams about the world of Fillory, a magical kingdom from the books he read as a child. However, things take a turn for the strange when his interviewer turns up dead, and one of the paramedics at the scene decides to hand over some of the deceased's belongings to Quentin; this leads him quite abruptly onto the grounds of the Wizarding School Brakebills, which, after an especially arduous examination, accepts him as a student. After five long years at Brakebills, our hero drifts in Manhattan as a fully-fledged magician with far too much time on his hands... up until he discovers that Fillory, the world he always dreamed of visiting, is very real — and within reach.
The sequel, The Magician King, focuses on Quentin as king of Fillory along with three characters from the previous book, and on a quest he undertakes for seemingly no reason other than to defeat his own ennui, but quickly turns into something a great deal more serious. This is alternated with the story of Julia's own path of magic after parting ways with Quentin, intersecting at various points with the plot of the first novel.
A third novel, The Magician's Land, was published in summer 2014. Here, fresh from returning home and getting into hot water with the Brakebills faculty, Quentin finds himself recruited for a magical heist mission... and stumbling one of Fillory's deepest, darkest secrets in the process - all while his fellow magicians try to stop a cataclysm that threatens all of Fillory.
A graphic novel, The Magicians: Alice's Story, was published in 2019, and charts the course of Quentin's friend and lover, Alice, before, during and after her time at Brakebills. The same year, a series of comic books titled The Magicians: New Class was released, featuring a class of hedge magicians being accepted into Brakebills in order to build bridges between "legitimate" magicians and the underground community of hedge magicians - and the chaos that ensues as a result.
The trilogy was adapted as a TV series on Syfy, which premiered December 16, 2015.
---
The Magicians Provides Examples Of:
The sequel has examples of:
The third has examples of:
---