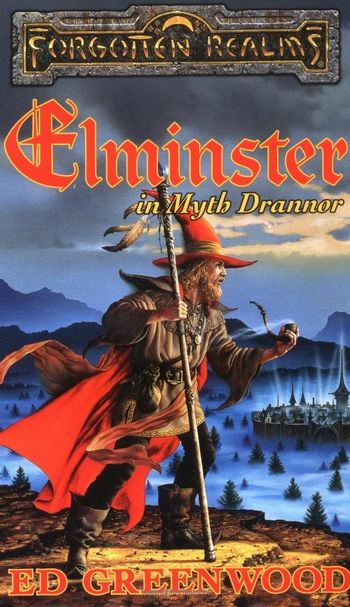 "Life has no meaning but what we give it. I wish a few more of ye would give it a little."
— Elminster of Shadowdale
The Elminster series is an ongoing series of novels set in the Forgotten Realms campaign setting of Dungeons & Dragons, written by setting creator Ed Greenwood. Its starring character is the archmage Elminster Aumar, one of the Chosen of the goddess of magic.
The series currently includes the following books:
Elminster: The Making of a Mage (1994): Elminster's quiet life as a shepherd in his hometown is violently disrupted by a dragon-riding wizard. The murder of his parents and entire village sets the stage for his long life as one of the Chosen of Mystra.
Elminster in Myth Drannor (1997): Now one of the Chosen, but still in his twenties and relatively inexperienced, Elminster is sent to the elven realm of Cormanthor to learn magic.
The Temptation of Elminster (1998): Several hundred years later. After accidentally getting himself sealed in a can for a century, Elminster emerges to find that Myth Drannor (formerly Cormanthor) fell to yugoloths while he was in stasis. He sets out to regain his life, then Mystra sends him to learn from a sorceress called the Lady of Shadows.
Elminster in Hell (2001): The first entry set following the Time of Troubles, during which the original Mystra was killed and the mortal wizard Midnight ascended to fill the position. After events in Return Of The Archwizards result in a dimensional breach between the Prime Material Plane and the Nine Hells, Elminster dives into the hole to seal it and is captured by an archdevil.
Elminster's Daughter (2004): Centered not around Elminster, but rather one of his various children, a Waterdhavian thief named Narnra Shalace. By dumb luck, she tries to rob him one night, follows him through a portal, and becomes involved in a plot by the Red Wizards of Thay against the crown of Cormyr.
The Annotated Elminster (2007): Omnibus edition of the first three books.
Elminster Must Die (2010): The first book set after the Spellplague. Mystra is dead by the hand of Cyric, and the Chosen have lost much of their power. Elminster's many enemies decide now is the perfect time to eliminate their old foe.
Bury Elminster Deep (2011): Manshoon thinks he finally killed Elminster, but he survived as magical ash. He now forms an adventuring party to counterattack and stop Manshoon.
Elminster Enraged (2012): Despite a command by the ghostly vestige of Mystra herself that they must work together, Elminster and Manshoon, both now bodiless entities, fight a shadowy war across Cormyr as they try to pursue their own goals of protection and conquest.
---
The Elminster series contains examples of the following tropes:
---