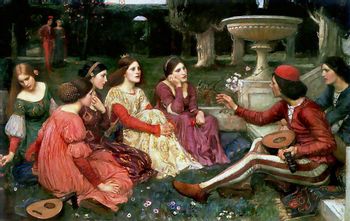 "And she, who had lain with eight men maybe ten thousand times, lay down with him as a virgin and made him believe that such she was, and lived for a long time happily as his queen. Hence the saying, 'A mouth that's kissed is not undone, but rises newly like the moon'."
— Panfilo, from The Decameron, Second Day: Seventh Story
The Decameron is a classic work of Italian literature, written c. 1350-53 by Giovanni Boccaccio.
In the midst of The Black Death, ten wealthy young Florentines—three men and seven women—decamp to a countryside villa with their retinue, and pass their days in storytelling, an attempt to reclaim a world that everywhere is dying. Over the course of ten days they tell a hundred stories between them, full of generous aristocrats, clever tricks, toilet humor, lustful women, wicked churchmen and lots of illicit sex. Boccaccio himself steps out from the shadows twice (once in the introduction to the fourth day, once in the epilogue) to deliver impassioned, hilarious, self-deprecating, and (in the case of the epilogue) incredibly obscene defenses of his work.
Famous stories include:
Day 1, story 1: Ciapelletto, a notoriously wicked Italian Amoral Attorney and scoundrel who has been a murderer, forger, perjurer, and Depraved Homosexual (among many other things), falls terminally ill while on business in Belgium, where almost absolutely no-one knows him. His slightly less evil companions bring a monk from a nearby convent to hear his confessions and give him last rites. Ciappelletto proceeds to tell him the most ridiculous lies about his life and how holy he's been the whole time, while pretending to repent over venial sins. He is completely believed by the monk, who preaches a sermon on his life and ends with everyone there believing him a genuine saint and attributing miracles to him.
Day 1, story 2: A Jew converts to Catholicism after seeing the corruption of Rome, reasoning that if Christianity can last and still spread even when its hierarchy is so sinful, the Holy Spirit must be its foundation.
Day 3, story 1: Masetto da Lamporecchio feigns to be dumb to win a seat as gardener in a convent. He ends up having sex with all of the nuns.
Day 3, story 10: Long considered the most obscene and was censored or removed in translations for a significant period.note
Day 4, story 5: Lisabetta and the lowly Lorenzo love each other in secret, but her three brothers find out, lure Lorenzo away and kill him. He appears to her in a dream and leads her to where his body is buried, and she cuts of his head and hides it in a jar of earth where she plants basil. Her brothers note her obsession with the jar and steal it away, and she dies of grief.
Virgin Territory is loosely based on some of its tales, as is The Little Hours.
---
Tropes in The Decameron include:
Unusual Euphemism: "Putting the Devil back into Hell" (Day 3, story 10). It is for this reason why this tale was not translated in earlier English translations of the Decameron.
Wearing It All Wrong: Day 9, Story 2 is about an abbess who was woken up at night with a report that one of her nuns harbors a lover. She catches the girl red-handed, assembles everyone, starts lecturing her about what a terrible and unforgivable sin this is... until the nun politely points out that upon being woken up, the abbess put on her head not the required headdress, but her own night guest's pants. The abbess hurries to change the tone of her lecture to one of forgiveness and the difficulties of resisting temptation.
A Wizard Did It: An eden garden in winter (Day 10, story 5) and teleportation of a man from Saladin's palace to Pavia (Day 10, story 9).
Wretched Hive: At least, that's how Boccaccio views Venice, "where the scum of the earth can always find a welcome." (Day 4, story 2)
You Have Waited Long Enough: Torello arrives just in time when his wife is about to remarried after he had been declared dead (Day 10, story 9).
---