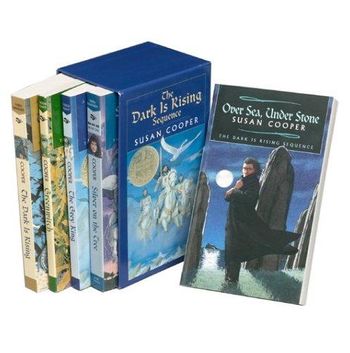 When the Dark comes rising, six shall turn it back;
Three from the circle, three from the track;
Wood, bronze, iron, water, fire, stone;
Five will return, and one go alone.
British fantasy series by Susan Cooper about the epic struggle between immortal forces of good and evil, progressing toward a final confrontation. Chiefly, the fight is a series of bureaucratic magical battles with arcane rules, in which both sides seek to collect items of power to give them the decisive advantage in the final battle between good and evil.
The books are:
Over Sea, Under Stone (1965)
The Dark Is Rising (1973)
Greenwitch (1974)
The Grey King (1975)
Silver on the Tree (1977)
While Over Sea, Under Stone was written first, The Dark Is Rising is most commonly read first.
The heroes are Will Stanton, a boy who discovers he is an immortal wizard; the Drew children, a trio of average kids caught up in the battle; Bran Davies, a mysterious albino boy; and Merlin. Yes, that Merlin.
The series is based on the Arthurian mythos, and is written primarily for older children and young adults. The series is a high-fantasy affair, drawing much of its lore from the Celtic Mythology of Britain and Ireland.
The Film of the Book, called The Seeker, was very loosely based on the second novel.
A BBC audio drama of the second book
was released in late 2022.
---
These books provide examples of:
---