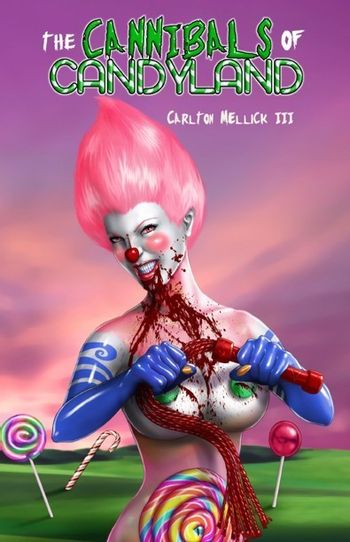 There exists a race of cannibals who are made out of candy. They live in an underground world filled with lollipop forests and gumdrop goblins. During the day, while you are away at work, they come above ground and prowl our streets for food. Their prey: your children. They lure young boys and girls to them with their sweet scent and bright colorful candy coating, then rip them apart with razor sharp teeth and claws.
When he was a child, Franklin Pierce witnessed the death of his siblings at the hands of a candy woman with pink cotton candy hair. Since that day, the candy people have become his obsession. He has spent his entire life trying to prove that they exist. And after discovering the entrance to the underground world of the candy people, Franklin finds himself venturing into their sugary domain. His mission: capture one of them and bring it back, dead or alive.
Cannibals of Candyland is an erotic horror story for the bizarro reader from the mind of Carlton Mellick III. Dark, disturbing, and absurd; this isn't the board game version of candy land you used to play as a kid.
---
This work provides examples of:
Artificial Limbs: Jujub replaces both of Franklin's legs with candy prosthetics.
Artistic License – Biology: The Candy People apparently evolved through natural mutation their candy physiologies from their cannibalistic ancestors over the course of a few generations to better catch and capture their prey. The absurdity of such a fact is later pointed out by Franklin.
Artistic License – Linguistics: The title refers to the Candy People as "Cannibals" as they eat human children. The Candy People however are not technically human, thus technically not making them cannibals.
Bright Is Not Good: The Candyland Cannibals are brightly coloured, which helps to lure children for them to eat.
Child Hater: Franklin despises children, mostly due to being tormented by a pre-teen bully who extorts money from him under threat of otherwise accusing him of being a child molester.
Clown Species: A race of clowns with candyfloss hair live underground and eat children.
---