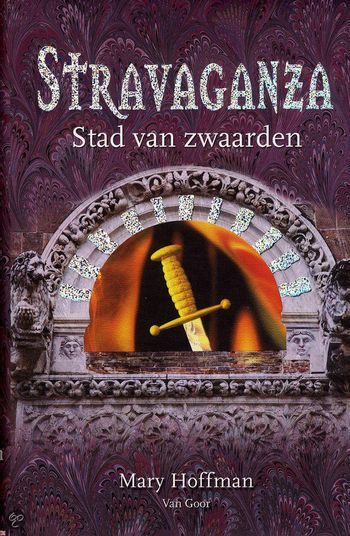 Stravaganza
is a series of novels by British writer Mary Hoffman about the adventures of young Earthlings in Talia, the
Fantasy Counterpart Culture
version of Renaissance Italy. These people, called 'Stravaganti', can go to Talia while asleep by using magical talismans. Political troubles have started to brew, and the Stravaganti are caught up in the middle of it.
The series was well-received by critics, though not popular. It was originally intended as a trilogy, but there are now six books in the series.
The series is as follows:
City of Masks, which focuses on Lucien, a cancer patient whose talisman is a marbled notebook, who visits Bellezza, the Talian version of Venice;
City of Stars, which focuses on Georgia, a girl tormented by her stepbrother whose talisman is a horse figurine, who visits Remora, the Talian version of Siena;
City of Flowers, which focuses on Sky, a teenager living with his single mother whose talisman is a perfume bottle, who visits Giglia, the Talian version of Florence;
City of Secrets, which focuses on Matt, a dyslexic young man whose talisman is a leather-bound book, who visits Padavia, the Talian version of Padua;
City of Ships, which focuses on Isabel, a girl overshadowed by her twin brother. Her talisman is a bag full of mosaic tiles, and she visits Classe, the Talian version of Ravenna; and
City of Swords, which focuses on Laura, a girl who copes with her unhappiness by self-harming. Her talisman is a letter-opening knife resembling a sword and she vists Fortezza, the Talian version of Lucca.
---
This series provides examples of:
Moses in the Bulrushes: Arianna. Her mother could not take care of her, so she was left with her aunt and uncle and never told that she was even related to the Duchessa.
Narnia Time: Most of the time, it's a consistent one-to-one day ratio between Talia and England, with the only oddity being that day and night are switched. But from the first, we know that the timeflow is much more unstable — Doctor Dethridge, who lived in the Renaissance and was the first Stravagante, regularly gets visits from Stravaganti from modern-day England because time has flown by more quickly in England.

And this is played to its heartbreaking conclusion when]]

Lucien's entrapment in Bellezza for about two days translates into a three-week coma in England — coinciding with a resurgence of his brain cancer. His parents, having concluded he's never waking up, decide to cut off his life support.
Older Than They Think: In-universe: the Stellata, unbeknownst to most Remorans, is coincident with a much older Manoush (Gypsy) festival.
Lucien and Arianna

and

Georgia and Falco

are more unusual cases, because the romantic relationship began

after Lucien and Falco moved into the other time period permanently

.
---
---