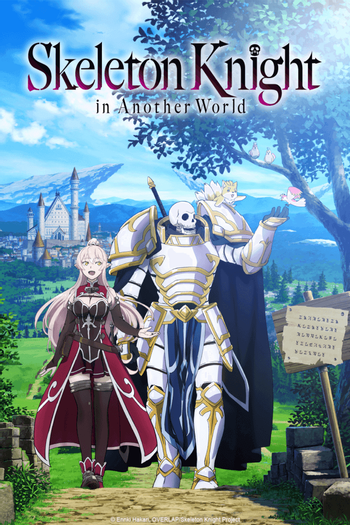 Skeleton Knight in Another World
(
骸骨騎士様、只今異世界へお出掛け中, Gaikotsu Kishi-sama, Tadaima Isekai e o Dekake-chū
) is a Japanese
Light Novel
series that began publication in June 2015, written by Ennki Hakari and illustrated by KeG, with a
manga
adaptation also written by Hakari, with illustrations by Akira Sawano. An
Animated Adaptation
has been released by Studio Kai and HORNETS in April of 2022.
An unnamed male protagonist falls asleep at his computer playing a Massively Multiplayer Online Role-Playing Game, only to find himself in the body of his avatar, "Arc", equipped with its strongest armor and weapon from the game. Unfortunately, Arc's appearance was also changed to that of a special skin the protagonist bought: a full-body skeleton. Deciding to become Arc in this new setting, the protagonist sets off hoping to not draw attention to himself, helping others as he can, while finding if there's a way to undo his mistake of looking like a skeleton beneath his armor.
Has absolutely nothing to do with the character Skull Knight from Berserk.
---
Skeleton Knight in Another World contains examples of:
---