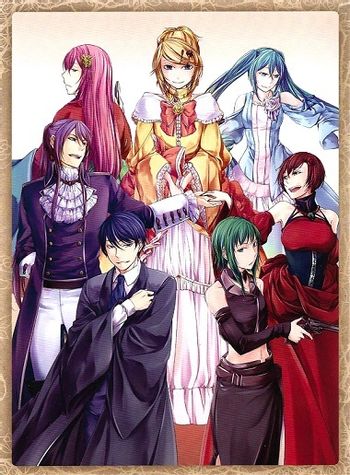 Now, let's begin.
Seven Crimes and Punishments is a short story (though really stretching the definition at multiple chapters long) in the Seven Deadly Sins of Evil/Clockwork Lullaby series of the Evillious Chronicles franchise. It was released in 2015 to buyers of the Seven Crimes and Punishments album's limited edition, written by the Japanese producer Akuno-P (mothy) and illustrated by Ichika.
The story has heavy spoilers and gives several implications towards the eventual end of the Evillious Chronicles, while giving even more details about the Seven Deadly Sins series overall.
The story concerns Allen Avadonia of the Story of Evil, having spent the last five hundred years of his afterlife studying in the Heavenly Yard under the sun god of the world, Sickle. Now that the world has been destroyed because of the events in the Wrath arc, the Hellish Yard and Bolganio are merging and all the souls of the Heavenly Yard are quite literally dragged down to hell. It's now up to Allen to help Sickle fix things. To do that, he'll need to understand the history of Bolganio first.
To do that, he'll have to speak with the seven most important people possessed by the Vessels of Sin, each in their own illusory worlds in the Hellish Yard.
No relation to Fyodor Dostoevsky's Crime and Punishment, though the title is likely inspired by it. Also unrelated to the 2014 Sherlock Holmes: Crimes and Punishments video game.
---
The short story contains examples of:
---