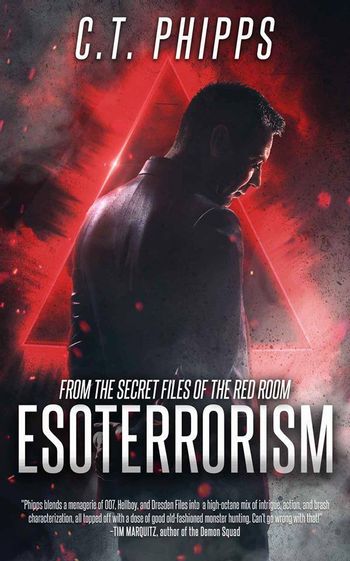 The
Red Room
is an
Urban Fantasy
series by
C.T. Phipps
and published by Crossroad Press. It is part of the
The United States of Monsters
universe.
The series follows Derek Hawthorne, a Man In Black member of an Ancient Conspiracy known as the House which is devoted to upholding The Masquerade. Thinking about retirement, but never quite getting there, Derek is joined by his succubus partner, Shannon O'Reilly, as they work against Eso-Terrorists or supernaturals who are attempting to reveal the supernatural to the public. Gray-and-Gray Morality abounds as the two sides are both shown to have legitimate points.
The books were originally a standalone series but have since been Retcon-ed as a tie-in to the The United States of Monsters. This means the series that originally took place in 2015 were retconned as taking place in 2006, two years before the Broken Masquerade in 2008.
Books in the series:
Esoterrorism (2015)
Eldritch Ops (2017)
The Fall of the House (2020)
Not to be confused with the ghost story
of the same title by H. G. Wells.
---
The series contains the following tropes:
open/close all folders
The Series
Esoterrorism
Eldritch Ops
The Fall of the House
---