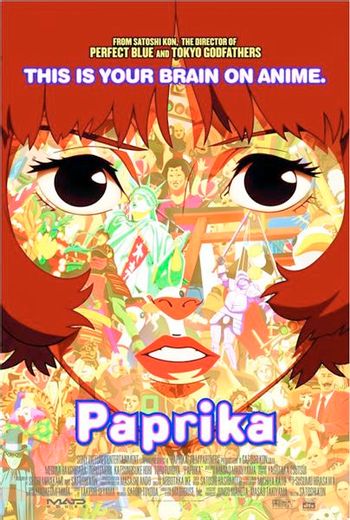 "No more anger, our world is happy and mundane!"
Paprika is a book written by Yasutaka Tsutsui, its chapters serialized between 1991 and 1993. It was later adapted into a 2006 anime film by Satoshi Kon, director of Perfect Blue, Tokyo Godfathers, Millennium Actress, and Paranoia Agent. This article mainly covers the latter.
20 Minutes into the Future, scientists have created a device called the "DC" that allows people to go into other people's dreams and record them. One of these people is the titular Paprika, a colorful and perky young dream therapist. She's the dream avatar of Dr. Atsuko Chiba (voiced by Megumi Hayashibara), one of the scientists involved in the creation of the DC. Things start to go wrong when prototypes of the DC-Mini, a portable version of the DC machine, go missing; the prototypes are missing a vital piece of programming which, basically, protects DC-Mini users' minds from being hacked.
Things get even more dangerous when it's discovered that the thieves are using the megalomaniac dream of an insane person as a Weapon of Mass Destruction. People who used the DC machines frequently in the past, such as Chiba, are at risk for being "infected" by the mad dream, and it's up to Chiba/Paprika, the DC's naive yet brilliant creator Kosaku Tokita (Toru Furuya), and stressed-out detective Toshimi Konakawa (Akio Ōtsuka) to save the day before reality gets invaded by the unstable Dream Land. The result is a beautiful, intelligent and often quite light-hearted film (though there are some heavy adult themes as well), with a very, very high "Holy Shit!" Quotient.
The film also stars Katsunosuke Hori as Torataro Shima, Toru Emori as Seijiro Inui, Kōichi Yamadera as Morio Osanai and Hideyuki Tanaka as Guy.
This film contains examples of:
Adaptational Attractiveness: Inverted with Tokita, whom the novel describes as fat, but not morbidly obese as the film portrays him.
Adaptational Sexuality: The relationship between

the Chairman and Osanai

has erotic vibes in the politically incorrect novel version, where it was played in a Depraved Homosexual way. Kon, being a touch more liberal-minded, tried to emphasize the unhealthy nature of the characters' obsessional relationships while making the orientation incidental, making it look more like a slave/master bond.
Your Mind Makes It Real:

There are two: Konakawa Anxiety Dreams and Himuro

and Everyone's collective

dream.
This is also one of the proposed uses for the DC — to cure diseases by manipulating the subconscious.
---
---