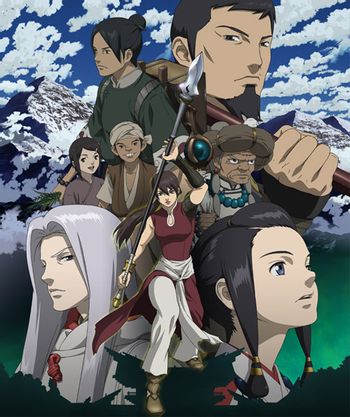 Balsa is a wandering bodyguard, spear-wielder and martial artist. When Chagum, the second prince of the New Yogo Empire, suddenly becomes possessed by what the imperial sages call a 'water demon', the Mikado finds little choice but to have the demon destroyed by killing Chagum. To protect the young prince, the Second Queen secretly hires Balsa to 'kidnap' the prince and thus keep him safe from the reprisals of the court.
With the support of her childhood friend Tanda and crusty shaman Torogai, Balsa must keep the prince safe while living anonymously in the New Yogo Empire. Meanwhile, at the palace, where Chagum has been quite popular, not everyone is happy with the Mikado's decision. The star reader Shuga, the older Prince Sagum, even the tutors, servants and warriors who serve the imperial family are caught between orders and convictions. Before the winter ends, the characters will have to face several hard truths and decisions as they figure out just what they're supposed to do with the spirit.
Moribito: Guardian of the Spirit (Seirei no Moribito) is the first book in the Moribito series of Japanese fantasy novels, written by Nahoko Uehashi. Scholastic published the English translation of the novel by Cathy Hirano in June 2008 under the official title of Moribito: Guardian of the Spirit.
The novel has been adapted into:
A radio drama series written by Satoshi Maruo and broadcast by Creator/NHK FM Broadcast in 2006.
A manga series written by Kamui Fujiwara and published by Square Enix in Monthy Shonen Gangan from 2007 to 2008.
An anime television series created by Production I.G and broadcast by NHK since April 2007. The show began airing in North America as part of Cartoon Network's [adult swim] block in August 2008. It was available (with limited commercials) at Crunchyroll and Hulu, depending on your preference for subs or dubs. Viz Media acquired the series in 2015 for a DVD and Blu-ray re-release, as well as for airing on Neon Alley.
Season 1 of a live-action television series of the same title created by NHK.
You might be interested to read The Beast Player, another novel series by the same author.
---
Moribito: Guardian of the Spirit provides examples of:
Awesomeness by Analysis: Chagum, after having a form of gambling explained to him for the first time, not only very quickly works out the odds involved, but also how the con-men running the game are rigging it. He ends up driving them out of business by winning everybody's money back, using the con artists' own tricks against them.
Beauty Is Never Tarnished: Balsa leads an active and dangerous life, and apparently has picked up a number of scars. Are any of these scars visible normally in the anime? No. The most we ever see is one long one on her back, and one on her chest above her breasts.
Because You Were Nice to Me: Jin's very personal investment in Chagum's fate turns out to be because Chagum showed him sympathy after he'd been badly beaten for some unexplained transgression.
Con Man: A couple of guys running a rigged gambling game in Episode 10. Unfortunately for them, Chagum turns out to have an uncanny aptitude for spotting shenanigans.

He goes up to the table, times his bets just right, and predicts the result of every single toss. Over and over. After he does it enough times, they're pretty much forced to give everyone their money back.
Fish People: The seldom-seen Water Folk, who show up once to offer cryptic advice and are never seen again.
Friend to All Children: Balsa kickstarts the entire story by becoming the bodyguard of Chagum, a young boy. She swiftly becomes a major Mama Bear to him, as well as a Parental Substitute. Additionally, she met Toya and Saya when she saved them from a group of thugs. Toya seems to regard her as an elder sister, and states that he would willingly "go through fire and water for her."
Parental Substitute: Balsa borders on this and Cool Big Sis. Later in the series

she even gives a knife to Chagum, a symbolic tradition of coming of age from her home country

. Earlier in the series Tanda points out that her vow to protect Chagum until he's safe means that for all intents and purposes she has become the boy's mother. Balsa is given the same treatment

in her youth, as she was protected by a friend of the family, the best spear-wielder in the realm.

Poor Communication Kills: Barring Balsa and Shuga's first meeting, Shuga and Torogai get major props for averting this trope due to their efforts.
Theme Naming:

Chagum and Sagum.
The aliases used by the Mikado's agents are Yogoan numbers: Mon (mentioned by Shuga as the alias of the commander), Jin, and Zen are One, Two, and Three. The other five (Taga, Sun, Yun, Rei, and Hyoku) are of indeterminate order, but are Four through Eight.
Written by the Winners:

The Royal Family's founding history about slaying a Water Demon is incorrect. They wanted to put him on a pedestal to solidify their power and erase the Yakoo's oral tradition. However, the one responsible left a failsafe so that they don't make a mistake that leads to the destruction of the country. The Fire Folk a seem intent on hiding this information as well, to the extent that they nearly kill Torogai.

You Have Outlived Your Usefulness: The Mikado

was considering having Balsa killed in the final episode after everything is over, likely because they need to maintain the secrecy of everything and because of Chagum's attachment. Shuga and the royal guards manages to convince them otherwise due to respecting her and acknowledging that she would not want credit.
---