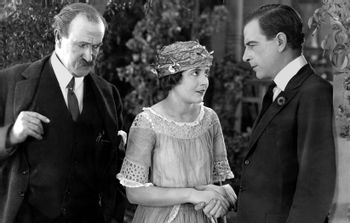 Miss Lulu Bett is a story about the Deacon family, residents of a typical American small town. Dwight Deacon is the obnoxious, narrow-minded patriarch, Ina Deacon is his rather lazy wife, and Diana and Monona are their two spoiled daughters. Grandma Bett, Ina's mother, lives with the family and has a rather unfriendly relationship with her son-in-law.
The central character is the eponymous Miss Lulu Bett, Grandma Bett's daughter and Ina's sister. Lulu lives with the Deacons as well, but instead of a guest she functions as a servant, and in fact more like a slave, cooking and cleaning for the entire Deacon family while having no time for herself. The unexpected arrival of Dwight's charming, roguish brother Ninian, however, offers a chance for escape, especially after Ninian takes a fancy to Lulu. There's also Cornish, the mild-mannered schoolteacher who is another admirer of Lulu.
Miss Lulu Bett started out as a 1920 novel by Zona Gale. She then adapted it into a play which won the Pulitzer Prize for drama (Gale becoming the first woman to win a Pulitzer). Shortly after that it was adapted into a 1921 film which starred Lois Wilson as Lulu and was directed by Cecil B. DeMille's brother William, who himself had a pretty successful directing career during the silent era.
The text of the play, with both endings (see Revised Ending below) is available here
.
---
Tropes: