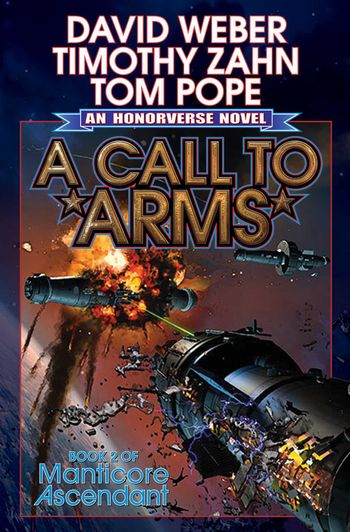 A prequel series of three books
with at least one more coming
taking place in the
Honor Harrington
universe. Focusing on the early years of the Star Kingdom of Manticore and the career of one Travis Uriah "Travesty" Long, this book portrays the Royal Manticoran Navy before it became the interstellar juggernaut seen in the primary series.
Travis Long, dissatisfied with his lack of purpose in life, enlists in the Royal Manticoran Navy after meeting a beautiful recruiting officer who tells of intensive training, a chance to serve and protect the Star Kingdom, and most importantly the discipline he feels he has been missing in his home life. After joining, he finds that the Navy is rife with laziness, nepotism, dishonesty, and a lack of respect for the rules, with rare exceptions.
Meanwhile, his half-brother Gavin Vellacott, a Baron serving in the House of Lords, is enlisted by the Chancellor of the Exchequer to aid in a campaign to defund and dissolve the Royal Manticoran Navy and pool its resources into the Manticoran Patrol and Rescue Service, which just so happens to fall under the authority of the Chancellor of the Exchequer, rather than his arch-rival, Earl Dapplelake, the Minister of Defense.
While Manticore's nobility debate and try to outgambit each other, with the men and women of the RMN and MPRS caught in the middle, outside threats to the Kingdom loom near unknown to all of them...
As this series takes place well before the main timeline, expect many cases of Dramatic Irony and Call-Forward, similar to the Stephanie Harrington series.
---
Manticore Ascendant contains examples of the following tropes:
open/close all folders
A Call To Duty
A Call To Arms
Originally published as a short story in Beginnings, the sixth Worlds Of Honor anthology, A Call To Arms originally focused on Lieutenant Travis Long and his part in the Battle of Manticore. It was later expanded into a full-length novel as the second part of the Manticore Ascendant series. Some tropes below may only apply to the short story or the book.
Alas, Poor Scrappy: Ensign Locatelli, who apologizes for being such a pain in the butt just before his Dying Moment of Awesome.
Awesomeness by Analysis: Travis is able to figure out that one of the enemy ships has a malfunctioning autocannon due to the way it is maneuvering to keep one side facing their attacks. They exploit this to sneak a missile past that ship to lay in a sucker punch on the battlecruiser it was screening for.
Call-Forward: Missile Tech Townsend manages to send a Covert Distress Code by using the RMN equivalent of FUBAR when speaking under duress with a superior. The code is "Zulu", which evolves from the name of a grueling and unloved exercise (as Zulu Omega), to FUBAR equivalent, before finally ending up as "Case: Zulu" in the main series, the most serious signal in the RMN: "Invasion Imminent".
David Versus Goliath: Casey, a fairly modern and well-armed destroyer, ends up going toe-to-tie with a full-blown battlecruiser, and due to some quick thinking and improvisation, is able to get close enough to lay in a plasma torpedo broadside, destroying the larger ship.
Don't Make Me Destroy You: Admiral Locatelli gives Admiral Gensonne the option to retreat rather than face further battle against the RMN. Gensonne dismisses this as bravado. Later, Captain Hardasty of the MPRS approaches a pair of Volsung destroyers with two corvettes and orders them to surrender or be destroyed. The Volsung destroyers ignore Hardasty's corvettes and focus on the nearby HMS Damocles instead, exactly as Hardasty hoped, having mistakenly assumed the MPRS ships were unarmed. The MPRS corvettes manage to sucker-punch both destroyers and save Damocles.
Ensign Newbie: Ensign Locatelli has more bravado than sense, much to the chagrin of many of his noncoms and Lieutenant Long. As he is the nephew of Admiral Locatelli, he is also mostly untouchable. When he is about to die helping Senior Chief Petty Officer Osterman to jury-rig and fire a laser to destroy a Volsung battlecruiser, he apologizes for being a pain in the ass.

Lieutenant Long himself is still antagonizing others by his tunnel vision view on regulation. He is at least aware of his faults.

Genre Blind: Few of the RMN officers and crew take their jobs seriously, due largely to Manticore's being an unimportant backwater. Unfortunately, the bad guys know that Manticore has an as-yet uncharted Wormhole Junction, and have hired a powerful mercenary force to seize the star system for them.

Several characters wonder if Long realizes that at least part of his problems with his fellow officers is due to his family connections to the faction of Parliament attempting to defund the RMN in favor of the MPRS. For his part, Long seems to assume they are all just covering for well-connected layabouts.
Similarly, Long fails to realize how much of his own advancement has been the direct result of his own connections, as various superiors pull strings to help him along after recognizing his talents. In fact, much of the string-pulling in his favor is in response to string-pulling used against him by others due to his family connections.

Helmets Are Hardly Heroic: Deconstructed: For whatever reason, the Mantie spacers don't don their helmets during the climactic space battle. The entire command staff of one ship is killed when their section is opened to the vacuum of space. This is in direct contrast to the main Honor Harrington series where one sign of military competence is when a character dons their helmet immediately at the start of battle.
Honor Before Reason: Admiral Gensonne's evaluation of the Manticorans' refusal to surrender, despite having a weaker force. If the Manticorans surrender, they lose fewer lives and their population is left intact under new management. If they continue fighting, they lose more lives and risk violent retribution.
Ignored Epiphany: Gavin basically realises what a dick he's been after the Battle Of Manticore but over the course of a few paragraphs twists things mentally so he was right all along and they really do need a smaller navy and more small MRS vessels.
Lethal Joke Character: A pair of MPRS corvettes happen to find themselves in an ideal position for an up-the-kilt attack on a pair of Volsung destroyers which assumed the MPRS ships to be unarmed.
Not So Harmless: The RMN ends up tossing several practice missiles without warheads, either as decoys or in one case to spoil an enemy's shot.
Obi-Wan Moment:

Ensign Locatelli apologizes to Senior Chief Petty Officer Osterman for being such a pain just before they both die firing a jury-rigged laser cannon.

Once More, with Clarity!: The short story is limited to Long's point-of-view, and is colored by his interpretation of events. The book adds many other points of views, and in particular show how off-base Long was in his judgement of others.
Private Military Contractor: A fleet of mercenaries hired by a corporate interest on Old Terra intend to steamroll the Royal Manticoran Navy.
Reassigned to Antarctica: Inverted, as pointed out by one of Travis's shipmates. After he refuses to back off on a well-connected junior officer who refuses to learn his job properly, thus earning him some powerful enemies... he is reassigned to HMS Casey, the newest and most advanced ship in the fleet.
Refuge in Audacity: The MPRS is ordered to stand down once the battle breaks out, because they are in no way prepared to fight a battle, despite having recently being authorized to begin arming their ships for system defense. Two MPRS corvettes find themselves in a position to assist an RMN destroyer and

destroy a Volsung destroyer and damage a second one which dismissed them as harmless due to not knowing about the MPRS's recent armament program.

Three-Act Structure: Similar to the first book.
A Call To Vengeance
A Call to Insurrection