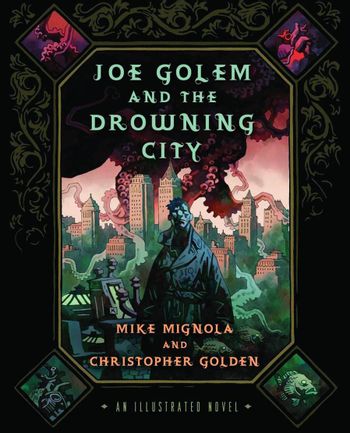 "
Tell me of real ghosts, a bloodthirsty vampire, children-eating boogeymen, all of that is my area of expertise. Not this vast, incomprehensible cosmic insanity!
"
-Simon Church
Joe Golem and the Drowning City is a book written by Mike Mignola and Christopher Golden, with illustrations from the former. The same partnership produced Baltimore and in many ways Joe Golem is a Lighter and Softer sequel of sorts to Baltimore's tale.
The book concerns the story of Molly McHugh a young Street Urchin who works alongside the aging former Stage Magician Felix Orlov, who currently works as a medium contacting the dead. They live in New York, but a very strange New York indeed: In 1925 earthquakes and tidal waves resulted in half of New York being submerged in water, thus acquiring the nickname "The Drowning City".
However, all of that changes when, after a mediunic session gone wrong, Felix is kidnapped by gas-mask-wearing creatures who seek to use him and the Pentajalum, a mysterious eldritch object, for a nefarious purpose that trespasses the boundaries of reality itself. The only people who can help her save Felix are the Occult Detective pair Joe, a Gentle Giant with a Mysterious Past who has dreams of being a witch-hunting Golem, and Simon Church, a Quintessential British Gentleman Gentleman Adventurer.
It is primarily a steampunk lovecraftian pulpy story about sacrifice and the cost of justice.
Followed by comic books including:
Joe Golem (2015-2016)
Joe Golem: The Outer Dark (2017)
Joe Golem: Flesh and Blood (2017-2018)
Joe Golem: The Drowning City (2018-2019)
Joe Golem: The Conjurors (2019)
Movie adaptation rights have been acquired by MGM, but no movie has entered pre-production yet.There is a comic prequel series going on titled Joe Golem Occult Detective.
---
Tropes contained in this book