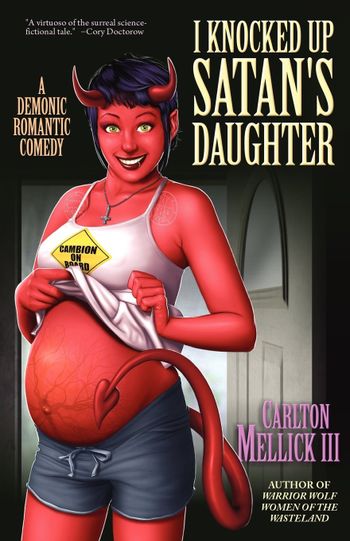 She came for his soul, but left with his heart...
Jonathan Vandervoo lives a carefree life in a house made of legos, spending his days building lego sculptures and his nights getting drunk with his only friend—an alcoholic sumo wrestler named Shoji. It's a pleasant life with no responsibility, until the day he meets Lici. She's a soul-sucking demon from hell with red skin, glowing eyes, a forked tongue, and pointy red devil horns... and she claims to be nine months pregnant with Jonathan's baby.
Now Jonathan must do the right thing and marry the succubus or else her demonic family is going to rip his heart out through his ribcage and force him to endure the worst torture hell has to offer for the rest of eternity. But can Jonathan really love a fire-breathing, frog-eating, cold-blooded demoness? Or would eternal damnation be preferable? Either way, the big day is approaching. And once Jonathan's conservative Christian family learns their son is about to marry a spawn of Satan, it's going to be all-out war between demons and humans, with Jonathan and his hell-born bride caught in the middle.
I Knocked Up Satan's Daughter is an adorable, violent, fantastical love story. A romantic comedy for the bizarro fiction reader by Carlton Mellick III.
---
This work provides examples of:
---