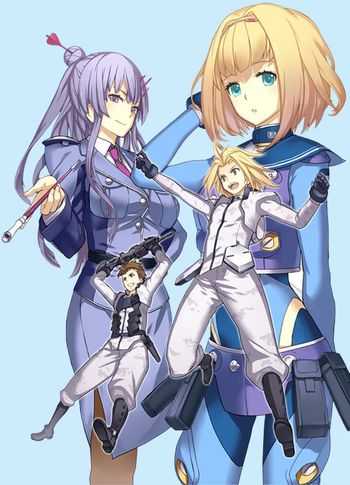 "Whatever is made by man can be destroyed by man!"
— Qwenthur Barbotage
Objects. Gigantic armoured weapons of war which have completely changed modern warfare. With the standard method of thinking being that "Only an Object can destroy another Object", the idea that normal soldiers could do anything was laughable, until Qwenthur and Havia, a battlefield student studying Objects and a noble enrolled in the army as a radar analyst, experience their own army's Object falling in battle and its pilot "Princess" Milinda Brantini in enemy hands. Against all common sense, Qwenthur mounts a daring rescue mission, helped by Havia. On the way, they face the enemy army's Object, and find that they have no choice but to destroy it if they want to survive. They succeed.
This unbelievable victory leads the public to label them Dragon Killers, worshipped and adored. Of course, the military decides to take advantage of this and places the two into a special unit for taking on Objects on foot. Thus, Qwenthur and Havia, accompanied by Milinda and her own Object the Baby Magnum and their commander Frolaytia, begrudgingly do their dangerous duty, only continuing because they can't fight against their own military, and because their morals compel them to defend whomever they find standing in the way of the Objects.
Heavy Object is a Military Science Fiction Light Novel series written by Kazuma Kamachi (author of A Certain Magical Index), with illustrations by Ryo Nagi. The series was published under the Dengeki Bunko imprint for almost exactly 12 years from October 10, 2009 to October 8, 2021, for 20 volumes, plus some additional short stories and a side story volume known as Heavy Object EX. The final two volumes were released back to back in September and October 2021 as a two-part finale.
An anime adaptation by J.C. Staff began airing in October 2015. It consists of 24 episodes and was localized by Funimation.
The first chapter of the first volume was adapted into a manga by Inue Shinsuke in 2009. The remaining two chapters and one short story were adapted by Saito Sakae in a manga called Heavy Object S in 2011. A third manga adaptation (also by Saito Sakae) called Heavy Object A began in 2015 to accompany the anime adaptation, though it skipped the second volume of the light novel to adapt the third volume.
Qwenthur, along with Milinda and Havia, represent the series in the Massive Multiplayer Crossover Fighting Game Dengeki Bunko: Fighting Climax beginning with its Ignition update.
---
open/close all folders
Tropes found in this series:
0-M
N-Z
---