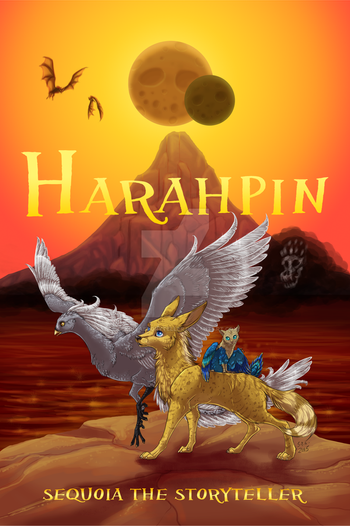 "You may be something very special… even if you aren't aware of it yet. You may be something my kind have been awaiting for many long ages. Harahpin… the 'Golden One'."
Harahpin is a fantasy story written by Sequoia The Storyteller and is part one of a trilogy. It takes place in a universe where Heaven and Hell are planets, Pairetoria and Untoria respectively, each possessing contradictory and complimentary aspects of one another, even down to the very species.
After suffering another bout of the same nightmare, Eyrco decides to take action. Along with her two friends, Euron and Saphillin, she embarks on a journey to the hellish planet, Untoria, in order to seek answers to the meaning of her dream. Almost immediately, the three get tangled up in a prophecy and their fates intertwine with special Untorians known as Gold-Patches, whose very destiny may lay within Eyrco's uncertain paws.
However, time is running out. With pure Untorians on their tail and trying to stop them, and a horrific event forthcoming that would unleash unspeakable monsters, Eyrco and her friends must act quickly. But will they be able to fulfill the prophecy or will both worlds be ripped apart by an unspeakable force?
The book can be purchased here
. The sequel, The Pantorians, is also available for purchase.
---
Tropes In Harahpin