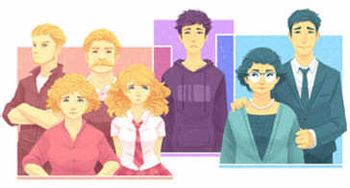 Flesh & Blood
is a weekly web serial-go-novel and sequel to
Under My Skin
, written by A. E. "Asynca" Dooland and funded through
Kickstarter
. The book's themes include gender, sexuality and dysfunctional families, particularly those of gender and sexuality diverse people.
Having left her job at Frost International, transgender artist Min Lee is finally free to sort out who she is and what she wants from life. Except, she quickly finds herself facing her conservative Korean mother's attempts to have her marry Henry, the longtime boyfriend with whom she recently broke up. To further complicate things, Min's new girlfriend Bree is doing badly at school and her family is still in massive debt due to her brother's gambling addiction.
With the odds stacked against Min, her past at Frost haunting her, her friends suffering their own crises, and her girlfriend desperately trying to salvage some self-esteem, Min's support system is crumbling. And in the end, when everything has fallen completely apart and there's nowhere left to turn – what happens if you find out you can't rely on your family, after all?
Chapters are currently available to be read on the author's website
.
---
Flesh & Blood contains examples of the following tropes:
---