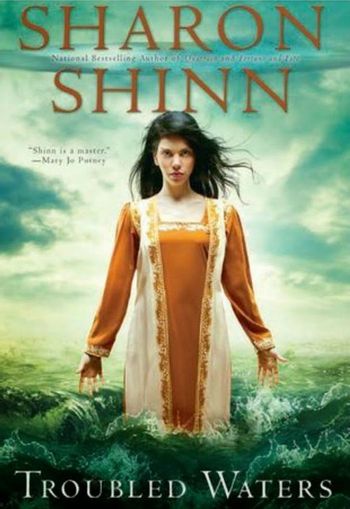 A series of novels by
Sharon Shinn
.
In the kingdom of Welce, everything is ruled by the Five Elements, even down to the days of the year and the personalities of the people. The Five Primes help keep the realm in balance, but politics interferes in everything.
The Five Elements and Families:
Coru—Water and Blood—Lalindar Family
Elay—Air and Spirit—Dochenza Family
Hunti—Wood and Bone—Serlast Family
Sweela—Fire and Mind—Ardelay Family
Torz—Earth and Flesh—Frothen Family
The first novel, Troubled Waters, follows coru Zoe Ardelay. Her father Navarr, brother to the sweela Prime, was exiled from the capital city of Chialto ten years before. The day of his funeral, Darien Serlast, King Vernon's favorite advisor, arrives to collect Zoe. He claims she is to be the King's fifth bride, but something about his story just doesn't add up. Upon entering the capital, Zoe slips away and loses herself in the heart of the city, hoping to find herself again. What she discovers draws her back into the world of scheming and politics she thought she had left behind forever, but it is the only way to uncover the truth behind her father's banishment and the secrets that Darien Serlast would do anything to keep.
The second novel, Royal Airs is the story of elay Princess Josetta. Five years after Zoe turned the country upside down, Josetta is freer than she ever was before. But a mystery is dropped at her feet when she crosses paths with Rafe Adova, a man who appears to lack the Elemental Blessings every Welchin is born with. With rival foreign royals arriving in Chialto, Josetta and Rafe soon discover the secrets of his past go much deeper, and if they don't find a solution, war may erupt between two powerful kingdoms, with Welce as the battlefield.
The third novel, Jeweled Fire, follows sweela Princess Corene as she runs away to the neighboring country of Malinqua, where the empress is gathering foreign princesses as potential marriage candidates for her three nephews. As the nephews vie for the throne, the appearance of a new, long-lost grandson of the empress complicates the succession. And as Corene and her faithful guard discover, there may be a darker reason she and the other girls were brought to court...
The fourth novel, Unquiet Land, follows the torz woman Leah, a character who was introduced in the previous book. Returning to Welce after five years, Leah has to pick up the pieces of the life she left behind, including her infant daughter, Mally. In Malinqua, Leah spied for Darien; now that she's home, he asks her to do it all over again to investigate the Karkans, whose extreme philosophy soon puts the city's poor in danger. Balancing this, the friend she made in Malinqua, Chandran, has come to Welce too, with his own mysterious past.
---
Elemental Blessings contains examples of: