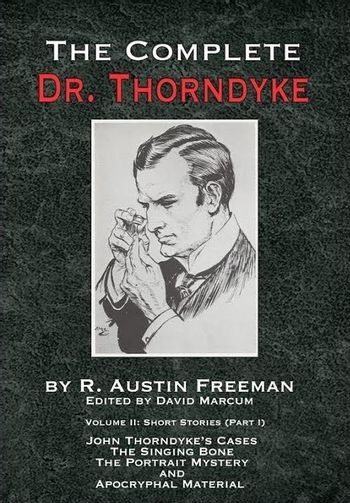 Dr. John Thorndyke is the protagonist of a series of detective stories written by R. Austin Freeman and originally published between 1907 and 1942. The series consists of forty short stories, and twenty one novels.
Trained as both a physician and a lawyer, Dr. Thorndyke is a prototypical forensic scientist, focusing on physical evidence rather than personalities and motivations when solving a mystery. He refers to this combined practice as 'medico-legal jurisprudence'.
Freeman stated in articles that his intention in writing Thorndyke was to subvert what he felt were overused and clichéd tropes in other stories inspired by Sherlock Holmes. Rather than a Defective Detective who suffers from Good Is Not Nice and is Surrounded by Idiots, he wrote Thorndyke as a brilliant but humble man whose only vice (according to himself) is for Trichinopoly cheroots (a particularly disgusting variety of cigar) and who generally has great respect for the police. Even when Inspector Lestrade type characters do appear, Thorndyke is always polite to them (while winking at his sidekick Jervis and the reader). Freeman was also keen to ground his stories in scientific accuracy (as it stood at the time) and, for example, the short story collection John Thorndyke's Cases includes examples of how Freeman proved the evidence used in the stories was realistic, such as photographs of hair follicles under the microscope.
Many of the stories use the Reverse Whodunnit form, in which the audience is first shown the murderer planning and committing the crime and the suspense comes from the question of how Dr. Thorndyke will catch them out. Freeman is credited as the inventor of this form by many, and regardless was certainly one of the earliest authors known to have used it.
Adaptations of the Thorndyke stories are few and far between. A TV adaptation from 1964 is entirely lost except the pilot. Two stories, A Message from the Deep Sea and The Moabite Cypher, were adapted for the 1970s ITV series The Rivals of Sherlock Holmes, with Thorndyke played by John Neville and Barrie Ingham respectively. More recently (2011) there have been radio adaptations on The BBC.
---
Dr. Thorndyke works with their own pages
---
This series provides examples of:
---