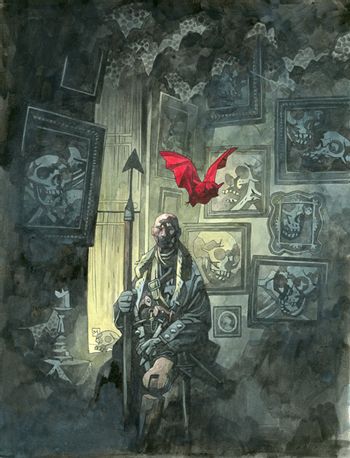 "Why do dead men rise up to torment the living?" Captain Henry Baltimore asks the malevolent winged creature. The vampire shakes its head. "It was you called us. All of you, with your war. The roar of your cannons shook us from our quiet graves…. You killers. You berserkers…. You will never be rid of us now."
Baltimore, or The Steadfast Tin Soldier and the Vampire, is an illustrated novel by Mike Mignola and Christopher Golden, who had previously collaborated on several of the Hellboy horror novels. Going down the paranormal investigator route again, Mignola and Golden succeed in making Lord Baltimore very distinct from Hellboy in many different ways.
Born Lord Henry Baltimore, the titular character was commissioned as a captain into the British Army during World War I. After a trench raid goes wrong, he is left badly wounded on the battlefield, where at dusk, enormous vampire bats feast on the dead and dying. Defending himself from the creatures, he injures one of them in the face, prompting them all to retreat, but not before his crippled leg is infected with their breath...
Later on, Baltimore is retrieved and brought to a hospital, where his leg is amputated. He is soon visited by a well-dressed gentleman with a scarred eye, who vows revenge on him and all of humankind. By the time he is discharged from service, Baltimore finds that a mysterious plague has spread all throughout Europe which saps the life away from those infected until they are nothing but listless, "gray people". When even his family is killed by the vampire that he wounded, Baltimore swears an oath of vengeance that takes him all across the globe.
The book mainly focuses on three companions of Baltimore, who have all convened in a tavern in an unnamed city to meet with their mutual friend. While waiting, they each recount how they came to know Lord Baltimore, and just what experiences they had in their life that made them all too willingly believe Baltimore's tale of vampires and curses.
A very dark book, it deals with the atrocities of war and their consequences, specifically on those who fight in them. Yet it is an excellent story, with an ending that is truly poignant.
Mignola and Golden eventually followed it up with a comic book series, which features Baltimore's later adventures, maintaining the novel's dark tone. It is illustrated by Ben Stenbeck, who also drew Witchfinder for Mignola's Hellboy universe. Lord Baltimore's story comes to an end in the comic book series' final arc The Red Kingdom, which pits him in his final confrontation with the Red King while the rest of the world stands on the brink.
Mignola and Golden would later partner up again in the Spiritual Successor Joe Golem and the Drowning City, likewise a tale of the toll of heroism.
---
This work contains examples of the following tropes:
---