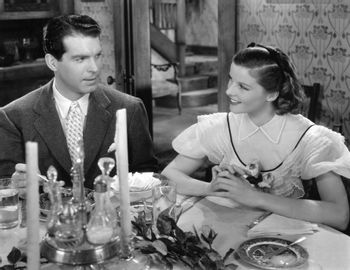 Alice Adams began life as a 1921 novel by Booth Tarkington. It was adapted into a film in 1923, and then adapted again into a better-remembered 1935 film that was directed by George Stevens and starred Katharine Hepburn and Fred MacMurray.
Alice Adams is a young woman living in a small town somewhere in Flyover Country. Her father Virgil is a clerk in a factory owned by Mr. Lamb—or he used to be, but Virgil has been laid up for some time with an unspecified illness. Mr. Lamb has been very understanding to the Adamses and has kept Virgil on salary while he is unable to work, but the Adams are still just scraping by. Alice's brother Walter is a lower-level clerk at the Lamb factory but seems to spend most of his time drinking and gambling. Alice, however, has dreams of joining the fancy set in town, and strives to squeeze her way into their fancy parties and receptions. Her mother resents Virgil for not bettering himself, and cares just as much as Alice does, and maybe more, about Alice rising in society.
A chance at a ticket to the upper class presents itself when rich young local boy Arthur Russell (MacMurray) takes a fancy to Alice. But the Adamses are still broke, and Mrs. Adams puts the screws to her husband even more, essentially forcing him to leave Mr. Lamb's employment and start up a glue factory with a formula he derived while in Mr. Lamb's employ. This leads to disaster.
---
Tropes: