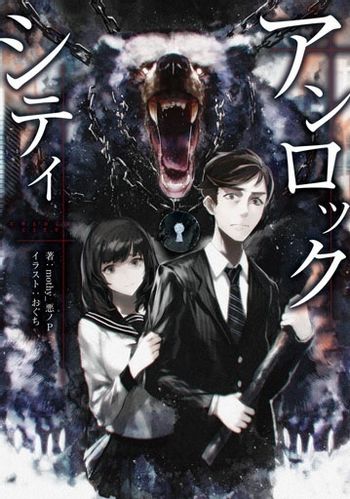 In the end, what it is that people fear the most?
Unlock City is a panic-horror light novel written by mothy, published by Ponycan Books and released on July 3rd, 2015. The artwork is by Oguchi.
The plot revolves around Takahagi Koudai and his sister Otoha, a young man working for a security company who likes to play video games in his off hours, and a young girl attending the local highschool. One day, Koudai receives a strange email signed by the initial "M" with no apparent address attached, hinting at something ominous to come on July 7th. Despite how unusual the message is, Koudai puts it out of his mind until a week later.
Sure enough, on the day of Tanabata, strange things begin to happen in the town of Tsuruki City, where the pair lives. An invisible wall that no one can pass through encompasses the entire city, all communications with the outside world are down including phones and emails, and suddenly all locks have become impossible to use, analog or digital. Tsuruki High has also been encompassed by an invisible wall—and one of the students has been found in the music room, torn to pieces.
Koudai must pursue the truth of why the city has fallen into chaos, following the strange emails he's received and the conspiracy they lead to. Otoha must contend with being trapped inside the highschool with an escaped bear on the loose and slowly unraveling classmates.
The novel's website is located here
, with a link to its purchase on Amazon (note the novel is in Japanese). In addition, every purchase of the novel includes a PIN to download a (Japan exclusive) free new song called Unlock Black Box. mothy has since made a junior light novel series called the "Story of Evil" series which serves as a loose sequel set in the same universe as Unlock City.
---
Unlock City provides examples of:
---